The Women's Land Army looked for physically fit young women, who had no dependents (usually unmarried), who where mature enough to leave home and to be sent anywhere in the country.
The process of signing up to the Women's Land Army is outlined below:-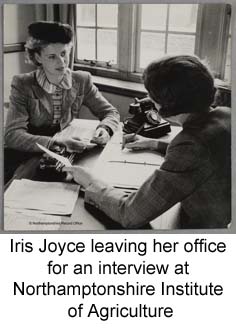 Women enrolled at a local Women's Land Army headquarters, or by registering their name on the National Service Guide at the local post office. Women had to be 17 years old in order to join the Women's Land Army (although some women joined when they were younger).
The next step was to undertake a medical test (paid for by the Ministry of Agriculture). This wasn't usually that strenuous – in some cases, the doctor just signed their certificate without carrying out any checks according to Mant. However girls of a smaller size were questioned about whether they would be able to cope with the heavy manual work. 'Well-turned' girls were also questioned about their ability to 'muck down' to the country lifestyle.
Women were then invited to attend an interview. This would give the panel a chance to meet the young woman in person. The young women applicants were usually asked questions on the following:
Previous work
Work preference
Uniform size
Present occupations
Whether a bike was required
Experience of country life
2 desired locations for working
Women also had to present their medical certificate, along with two character references. A check also had to be made to ensure that women was not already in reserved occupations (jobs that were essential to war). Around 1 in 4 applicants were successful according to Sackville West.
If successful, women received the Women's Land Army brooch. Once the war had started, women had to pledge themselves for the duration of the war. Their name was then added to the country register, where efforts were made to match them up with a local farmer.
---
References
Antrobus, Stuart. 'We Wouldn't Have Missed It For the World': The Women's Land Army in Bedfordshire, 1939-1950. Copt Hewick: Book Castle, 2008.
Kramer, Ann. Land Girls and Their Impact. Barnsley: Pen and Sword, 2008.
Mant, Joan. All Muck No Medals: Landgirls by Landgirls. Leicester: Book Guild Publishing Ltd, 1994.
---