"Somewhere in England" showing at New Wimbledon Studio from 11th – 15th Oct at 7.45pm with two matinees on Weds 12th and Sat 15th at 2.45pm.
"With a salute to both the great Hollywood musicals and classic British cinema of the 1940s and 50s, we step back in time to the summer of 1943, with the arrival of one US army unit and its impact on the lives of a small community in rural England.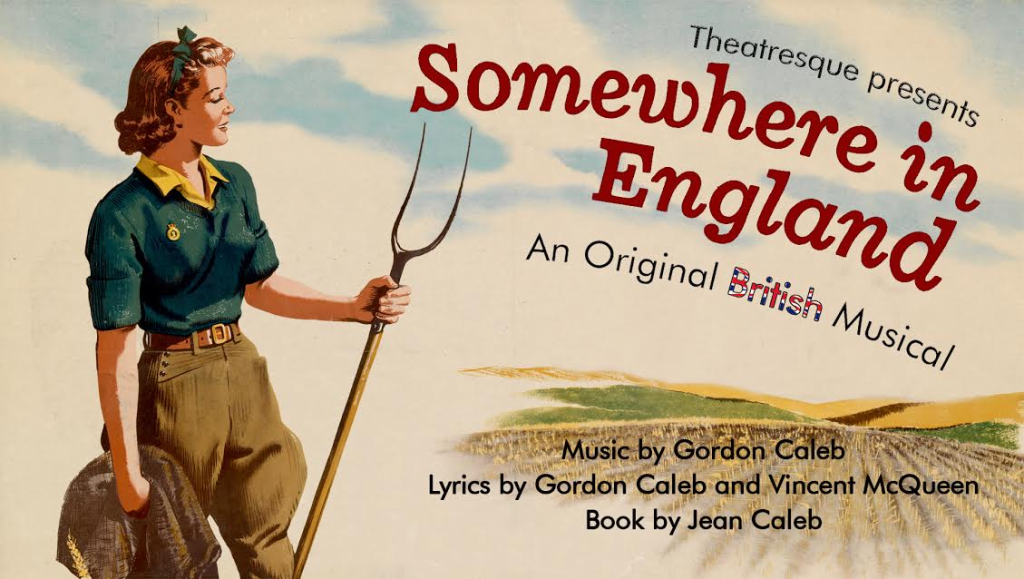 A memorable score and live band brings you fun packed comedy numbers, heart rending ballads and foot stomping dance routines. A nostalgic micro-musical with epic heart!.
A professional small cast of 13 key characters, 19 original songs with catchy melodies and clever lyrics and a top notch four piece band on stage throughout (in GI uniform).
A promotional video can be seen here.
More Information
It's 1943 'Somewhere in England' – To confuse the enemy during WW2 all sign posts, road signs and railway station names were removed. In media broadcasts, locations were never pinpointed but referred to merely as  "Somewhere in England "
The story begins with the parting of British Soldiers at the end of their leave with the rousing opening number "Station" followed by the beautiful duet "What Went Wrong" lamenting the loss of former happy days of youth in peacetime.  All change for the arrival of the 'Yanks' and their fun packed number "Me, Me, Me!"  the GIs imagining the excitement and optimism of locals girls to their arrival, with headscarves and trousers rolled up to their knees, they become the girls  "Who wants chewing gum by the yard? Who wants nylons for free? Who's decided to drop her guard? Me! Me! Me! .
Romance, life-long bonds and heart-ache follows, interrupted by the mean-spirited comedy villains Mr Crowe and Mrs Johns "Yanks, go home! Yanks, go home! Pack up all your jeeps and all your tanks, go home. Take that ship. Make that trip, to your cities of concrete and chrome. Don't like your pranks, no thanks, so Yanks go home."  Get ready for the thrilling jitterbug dance 'The Forty Four' and the heartbreaking "Don't Know How to Tell You".
A beautifully crafted score of 19 songs with catchy melodies, clever lyrics and  a story packed with fun, romance and nostalgia.
Director Sheila Daniels had originally played the role of a Land Army Girl in the first brief outing for Gordon Caleb's Somewhere in England at Questors Theatre in Ealing, back in 1987. It played for one short rapturous week.  Sheila went on to drama school and became a singer and voice coach. She never forgot the musical and decided last year that she would love to stage a professional production and began tracking it down.  She discovered that the composer Gordon Caleb had died in 1999 and was put in touch with his widow Jean Caleb who wrote the script.  Jean was thrilled that someone was interested in a revival, she said that at the time back in 1987 they had wanted to take the show to Edinburgh but "for one reason or another it didn't happen" and it was put away, Jean spoke so movingly about her late husband's talent as a composer (he wrote 8 musicals) and gave Sheila the opportunity to have Gordon's work recognised and not forgotten – She wanted to do that for Jean but also because she believed it had all the elements of a great musical with broad appeal.
Sheila – and  her budget – decided to present a micro musical with unfussy staging, a top notch 4 piece band on stage throughout (in GI uniform) and a professional small cast of 13 key characters so that the score could be showcased up close and personal to the highest possible standard.
The company's production team includes a collaboration with some talented students from The Brit School in Croydon who are providing lighting, sound and stage management duties. For the soon to be graduates this will be their first professional credit.
The New Wimbledon Studio's black box will be home for seven performances only to showcase a lost classic of a musical which the company hope will become a beloved addition to the British Musical Theatre catalogue, entertaining audiences far and wide, ultimately giving a home-grown composer the recognition he deserves.
BOX OFFICE: 0844 871 7646
TICKETS £14.85
Book ticketes here.