Have a question? Can you help? If you would like to add a message to this page, please contact Cherish Watton, by e-mailing info@womenslandarmy.co.uk.
Please also check out the Wartime Memories Women's Land Army Announcement Board which also has messages from people researching land girls.
If you would like to reply to any of the messages, please click on the blue name and this will open up the relevant contact address relating to the query.
To search the messageboard, press Ctrl (or Cmd) and F and type your search terms.
---
2020
---
Gillian Hussain: I am looking for more information/photos related to my mother's (Phyllis Rutherford) Land Army experience. Her story is on the  Wartime Memories Women's Land Army Announcement Board. She trained at a farm in Stithians, Cornwall  (Penhalvean), and the farmer was Mr Bryant Knucky. She then moved to Wheathamstead, Hertfordshire (a dairy farm) where she was for three years. Names she mentioned were June Hetherington, Pat Strange and Sylvia Farrow.
---
Tamisan Latherow: Your country needs you to share your experiences for a new research project on women's influence on agriculture. Contact University of Reading PhD student Tamisan Latherow for more information on this Oral History project in conjunction with the Museum of English Rural Life and the School of Agriculture, Policy, and Development.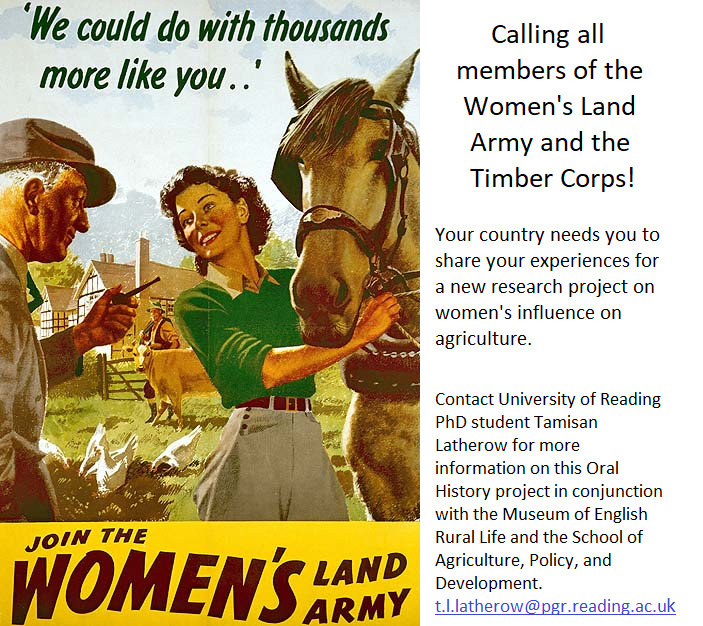 ---
Fiona McCluskey: My mother Joan Cooper and her sister Beryl joined the Land Army in 1942, and together with other girls from Nottingham, they were sent to Beaulieu, where they were billeted at Dock House. Beryl died in 2016 but Joan (who was known as Bunty to her friends) is still with us. Does anyone have memories of Beaulieu I could share with her?
---
Tina Hodgson: I'm trying to find out more about about my mother's time in the WLA. She was called Dorothy Holden (née Chance), DOB 22/2/1928. The stories she used to tell me were so interesting and her great granddaughter is really interested.  I just don't know how to get them. Can any one help please?
---
Shannon McBride: I work in the newsroom in BBC Scotland and I am currently helping to organise some filming for the upcoming 75th Anniversary of VE Day and the 80th Anniversary of the evacuation of Dunkirk. Do you know of any Scottish women that have memories of either of these and would be able to chat to us?
---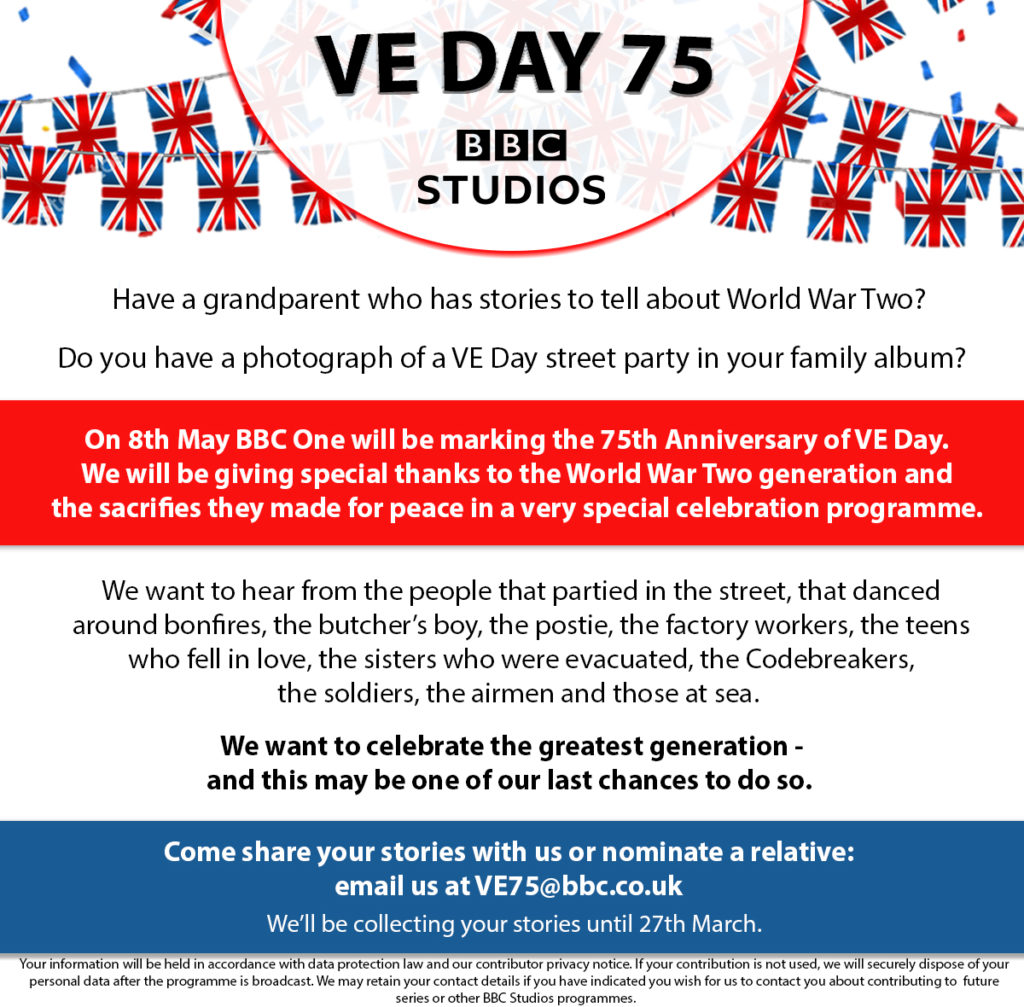 ---
Tim Puddefoot: We live in Todhurst house – Between Pulborough and Billingshurst next to Brinsbury. We believe the house was used by Land Girls in WW2. We'd be very interested in any photos from that time.
The BBC WW2 Memories site gives the following information:
"Todhurst housed around 30 girls, ages ranging from 17 to 25 years old. At first no – one would speak to us – we had already been stamped as "the two bad girls!" Curiosity soon got the better of them however, and in no time at all we were all good friends. I remained there for I8 months, being trained for general farming, including driving a tractor, and using all its capabilities. I really enjoyed my time there – such a good crowd of girls – we all got on well.We were in a beautiful part of the Sussex countryside. The ages of the girls ranged from 17-25. Luckily for us, just along the road there was a group of Canadian soldiers who were all lovely boys. There was a pub opposite and after a hard days work on the farm, spent hedging and ditching, haymaking and threshing, and planting and digging potatoes, we were all happy to go up to the pub and meet the Canadians, and would spend a happy evening singing songs around the piano until turning out time, which was probably 10.30 in those days. Then we walked home through the lanes in the starlight in a very romantic setting."
Other than that, we don't have any other insights into the people, or any photos of that time.
Any help pointing us in the wight direction to learn more about the history of the house would be appreciated
---
David Huxley: During the 1939-45 war, my father was a senior member of the Parks Department at the Borough of Crosby, Merseyside. He supervised food production on farmland owned by the Borough Council and was not called for military service. The staff was augmented by two young ladies – land girls – who formed a friendship with our family, and I recall their occasional visits to our home. Joan Eastwood, C.M. Graham and J. Matthews were all members of the Women's Land Army and worked on the farm. Ut is probably unlikely that either lady is still alive, but nevertheless, personal curiosity has resulted in this enquiry. If you know of these women, then please get in touch.
---
John: I am trying to find out about Herstmead hostel around Pershore, Worcestershire or any of the land girls who stayed there. My Mother was then Jean Adams and who is now nearly 90 and suffering with the onset of dementia. She always shows me a photo of the girls all together at Herstmead and asks if any of the girls are still around It would be good for her to know any information about the hostel or any of the girls. (2nd March 2020)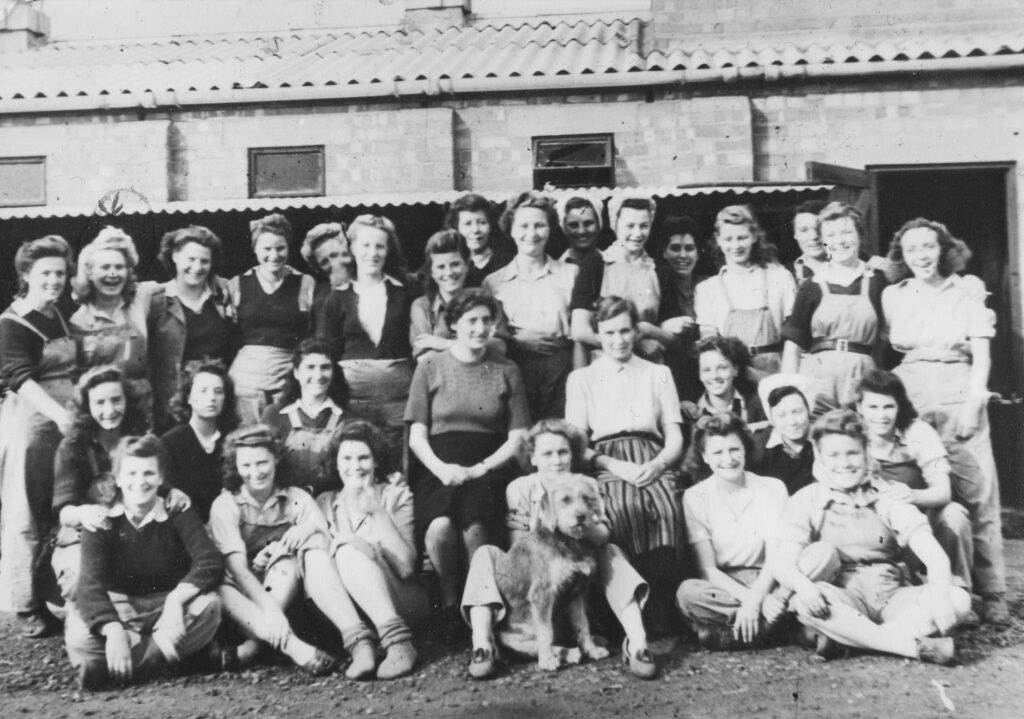 ---
Sheila Smith: Looking for any information about Land Army women in the village of Cotesbach, near Lutterworth, Leicestershire. This is research for a book on the inhabitants of the village and the two world wars. (2020)
---
Katie Streather: My name is Katie Streather and I am currently a student working towards my BA in Photography at London South Bank University. I have already completed my second year and returned in September to complete the final year of my degree. Within my course this year I will complete a major practical project. For this project I would like to document the veterans and people of the Second World War generation. Through this project, with your help, I would like to tell the stories of this generation and capture it for generations to come as we must never forget what happened and what was sacrificed by so many. My mission is to capture your stories of the sacrifices made that allow us to live the lives we do today. I hope to hear any stories you would wish to share with me and if you would be willing for me to take your portrait to be included in this project. Ultimately, I would like to create a photobook showcasing the stories and portraits with any proceeds of the book going to organisations that support veterans. The work would also be included in my degree show exhibition in the Summer of 2020. If you would like to be involved with this project, have any relevant contact I would be able to talk to or have any questions, please feel free to contact me I would love to hear from you. Please contact Katie on katiestreather@aol.com or 07867 338 220. (2020)
---
Bob Van Tol: I am trying to find information on my mother Joan Kathleen Johns who served in the Land Army during the second world war. Her date of birth is September 29, 1922 and she lived in Liverpool. I don't know where she was stationed or actually any other information. I wish I would have asked more questions while she was still living but unfortunately did not. Any information or direction you could provide me would be greatly appreciated. (2020)
---
2019
Joanne du Plessis: I am currently researching the history of my home, Hillcrest, Lansdown Road, Abergavenny, Monmouthshire, Wales. I have recently established that during the Second World War it was held under a Requisitional Tenure by the Minister of Agriculture and Fisheries. I have also managed to find an old newspaper advert for a cook, placed by the County Secretary of the WLA with my home's address being given as the address to apply to. I believe that the house was used as a hostel for the WLA but don't know how to establish this with certainty. I would love to hear from anyone who might have memories of the place?
---
Marjorie: My name is Marjorie and was in the land army in Newdigate near Dorking for two years – I was 17 would love to hear from anyone who was at hatchets or anyone from the Land Army.
---
Ella Wood: I am working at the BBC on a project aiming to capture testimonies by people who lived through or fought in World War Two. We want to speak to as many people as possible in order to gain as wider perspective as possible of WW2.
I was wondering if you knew of any local associations or groups which might be able to help us, or if you knew of any veterans or people who lived through the war who might be willing to talk to us about their experience. If they are interested, we would either call them, or send a letter or email, to talk about what they remember, and then if they are keen we would record their testimony.

If you'd like to share your experiences, please get in touch with Ella by e-mailing ella.wood01@bbc.co.uk.
---
Ian Carless: I am trying to trace the history of a hut in Brewood South Staffordshire which I think was formerly a Women's Land Army hut before coming here many years ago. Can you help? Kind regards Ian Carless.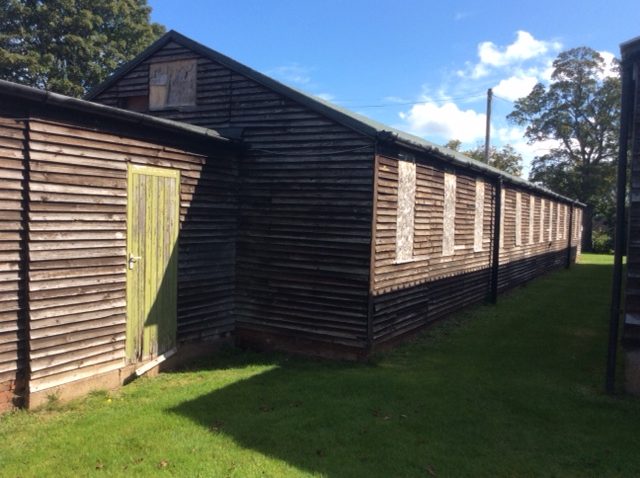 ---
Jon Hall: I'm searching for information or contacts regarding the Woman's Land Army who worked in the Chapel Brampton area of Northamptonshire during WW2. My uncle and aunt, Raymond and Kathleen I Birch (nee Miller) both worked in the area during that time. I believe that Kathleen (from London) may have been a Land Army girl whilst Raymond Birch (from Lincolnshire) had some thing to do with Agriculture. They met and married in October 1943 and were recorded in the local newspaper as being the wardens of the YWCA in the village of Chapel Brampton. The couple stayed in the area after the war and remained in the county until their deaths but we have little knowledge of them little as they had no children. Any information regarding the location of the hostel or indeed either of the couple would be much appreciated.

---
Jane Branson-Clayden: I am looking for any information regarding my mother, Pauline Frances Starling, born 7th June 1924. She was in the Land Army, and worked on a farm owned by a Vernon Bluck in the Stratford area of Warwickshire. Unfortunately that is the only information I have as my other passed away on 28th March 1954. Maybe someone would remember her, but I would love any information anyone may have.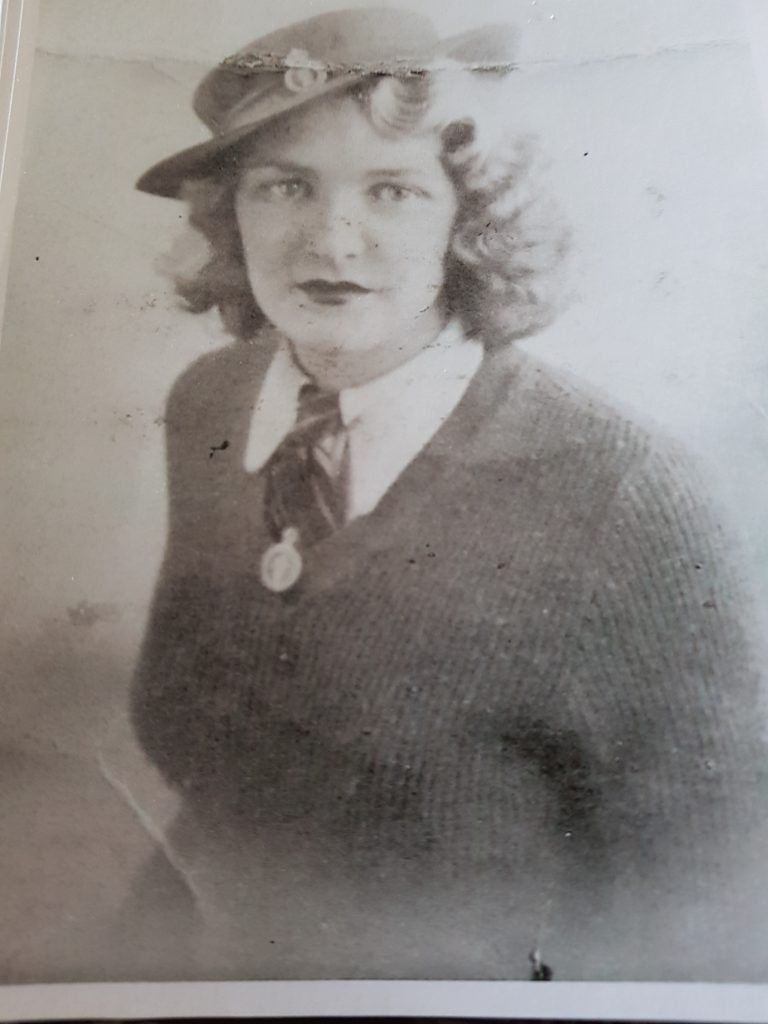 ---
Martin Honor: I am wondering if it is possible to find out exactly where my aunt, Miss Pamela Robinson, was based during her time with the WLA. Her number was 53754. From what I can remember of what she told me she was at a farm near Slough, Berkshire, and I think the family was called Bucket. Though her release letter is headed "Hampshire Women's Land Army".
---
Peter Burton: Did you ever spend time in the Women's Land Army hostel at Wallingford in Berkshire? Do you ever recall anyone saying they were in the Women's Land Army or Women's Timber Corps when you know very well they were not?
---
Penny War: Theatre Royal, Winchester and Hat Fair are working on a project called Home Fires, exploring the lives of women and children in the Winchester area in WW2, which will result in a touring show and pop-up exhibition later this year. We urgently need to know about the lives of land girls in Hampshire and especially in the Winchester area. Can you help us with information, family stories or anything else that might be relevant? Any help will be gratefully received.
---
Carol Snowball: I am trying to get records regarding my mother who was in the WLA during the war, she came from Newcastle upon Tyne and worked up on farms in Northumberland. All I know is she was posted up in Northumberland her name was Isabella(Bella) Charlton.
---
Melody Aslin: I'm trying to find out more about my mother-in-law's time in the WLA. Her details are as follows:

Name: Jane Clarkson Illingworth;
Year of Enlistment: 1940 or 41;
Where from: Wakefield, West Yorkshire;
Where stationed in the WLA: Andover, Hampshire.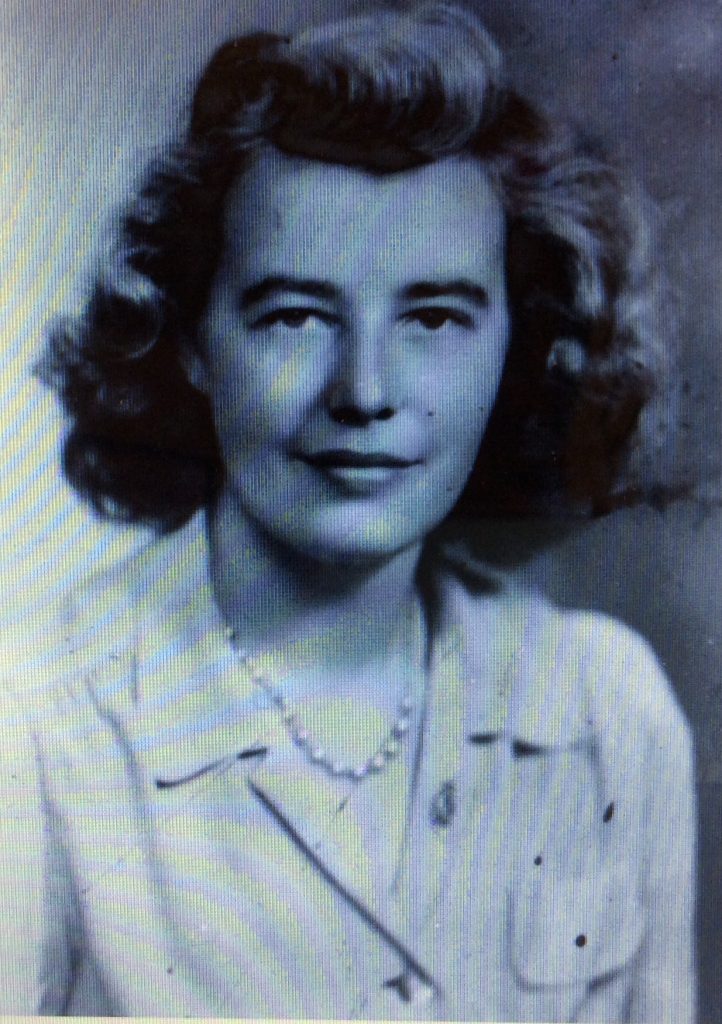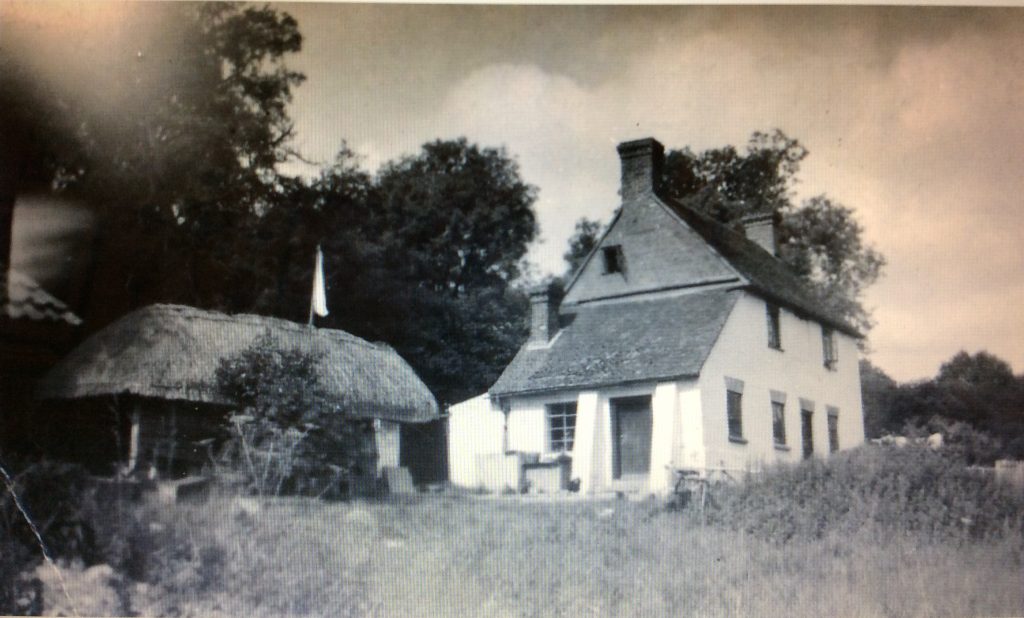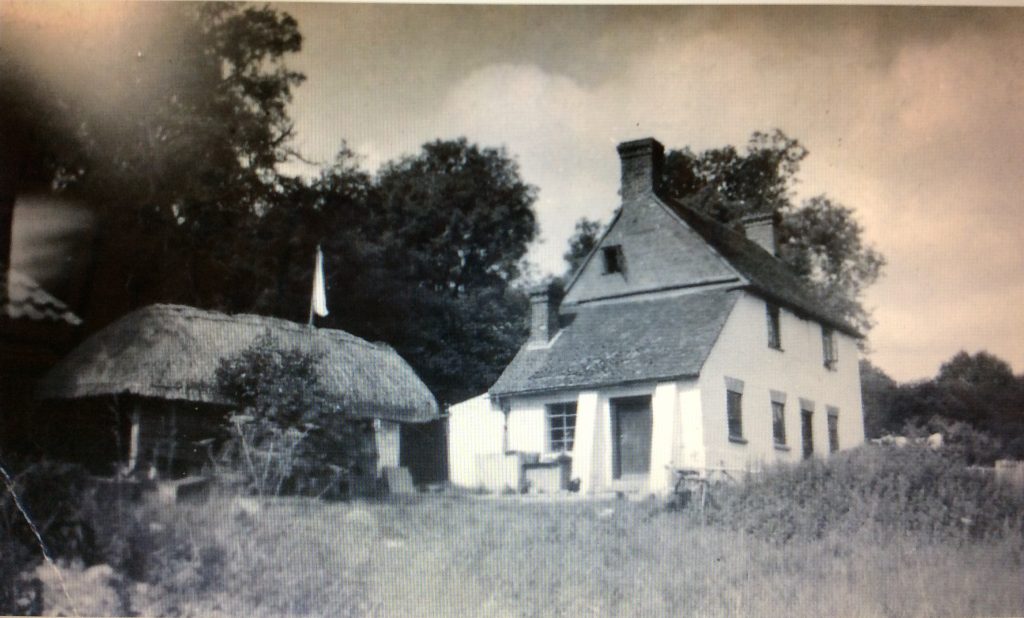 ---
David Arnold: I am looking for anybody who knew my mum Renee May Clode who served in the WLA between 1942 and 1945 and who sadly passed away in 2001. I emigrated from Manchester to Australia in 1995 and am heading back in April 2019 so would love to find out where she was exactly lodged, She was posted, I believe, to a hostel in Kingsland in Herefordshire would it still exist? She went to dances and occasional shopping in Leominster and Hereford and used to talk about it as some of the best days.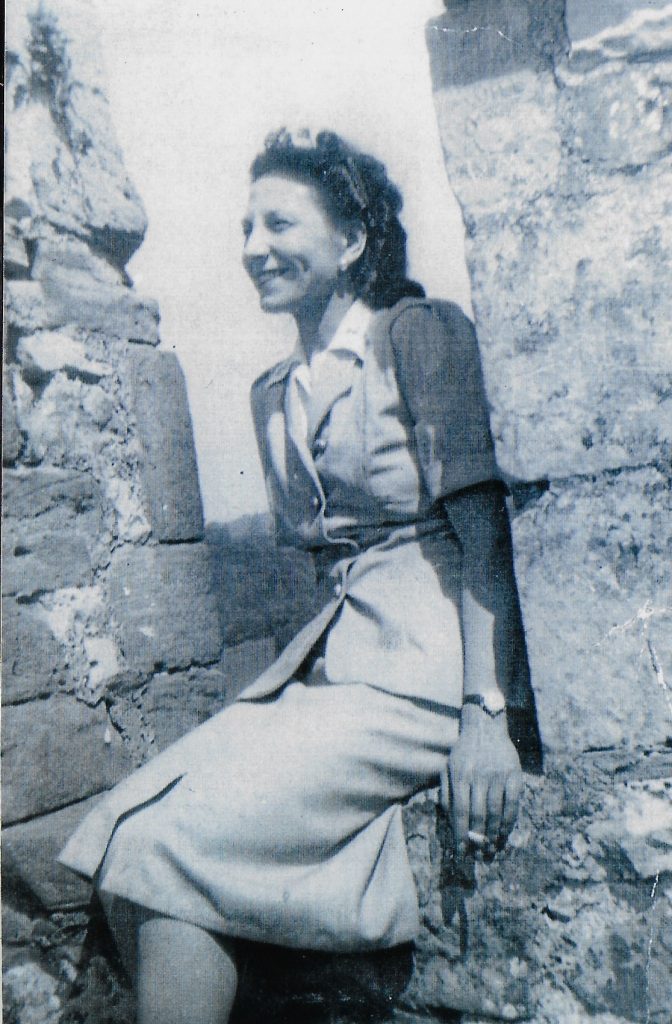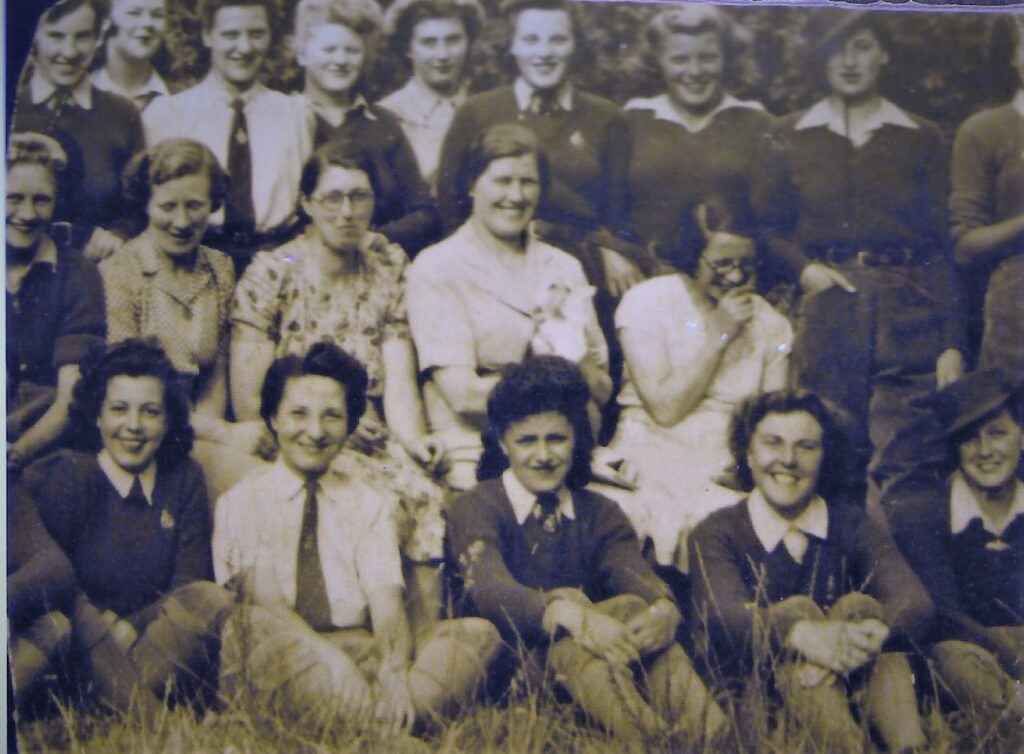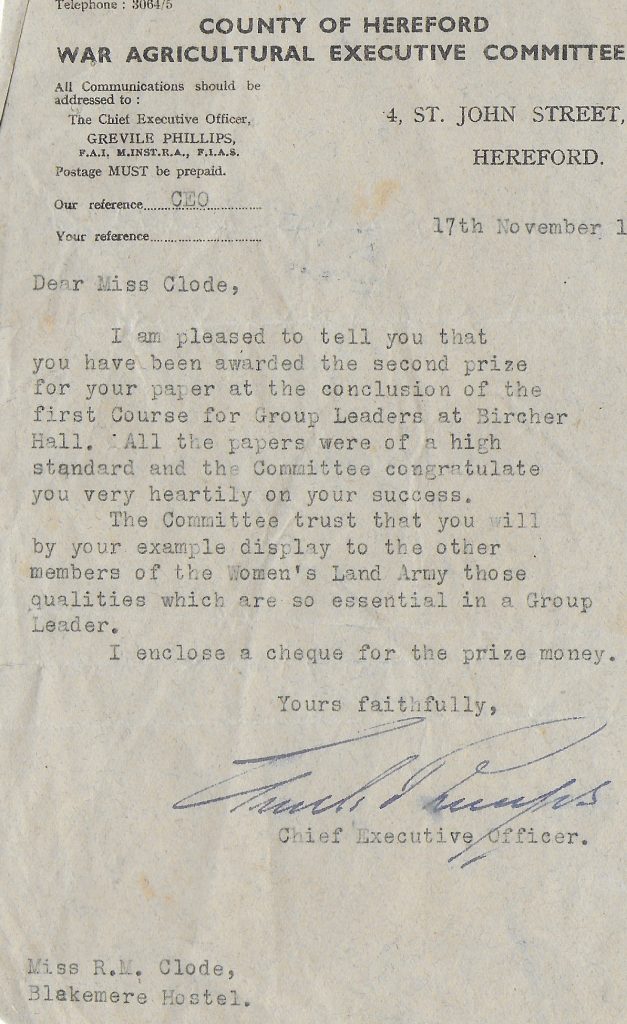 ---
Mike Plant: I am trying to find out a little about my mum's time in the land army in WW2. Her name was Enid Margaret Davies and she was born in Rossett near Wrexham on February 24th 1920 and at the time of her service would have been living at The Butchers Arms pub in Rossett. She was billeted in Pant Lane, Gresford near Wrexham after being transferred from the Wrexham munitions factory. I share a photograph of her unit which may be of interest to you. She is in the middle row immediately right of the lady with the white collar! I do remember that she was very friendly with a lady called Hilda from Oldham.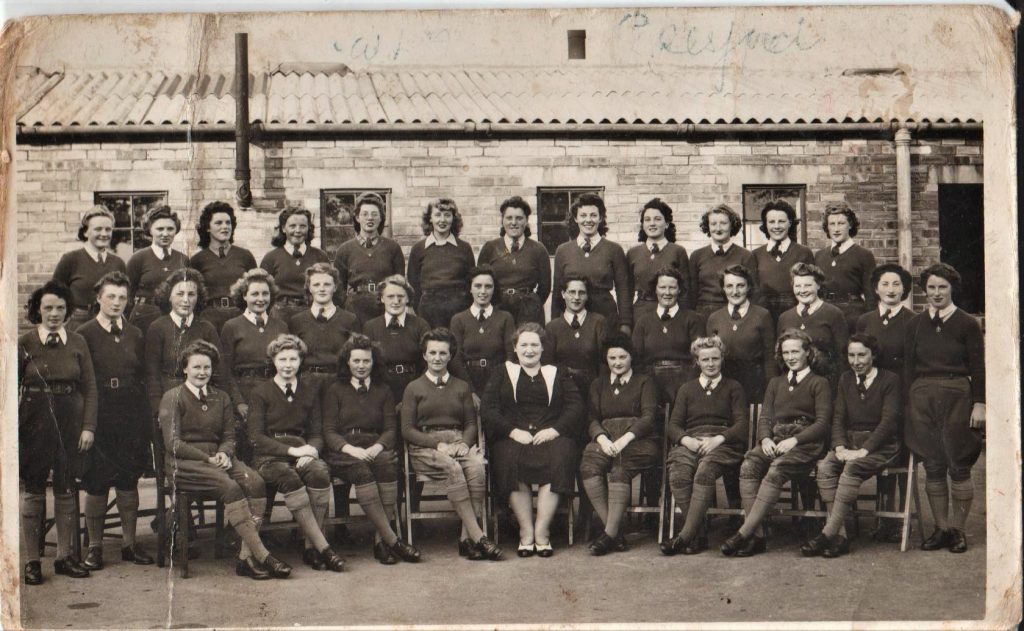 ---
Sheena Irving: Does anyone remember anything about the Airybank hostel in Scotland. It was handed over to DofA by tenant farmer George Gibson Mercer. The following references to the hostel have been found in the pages of The Land Girl magazine. Can anyone share any additional information?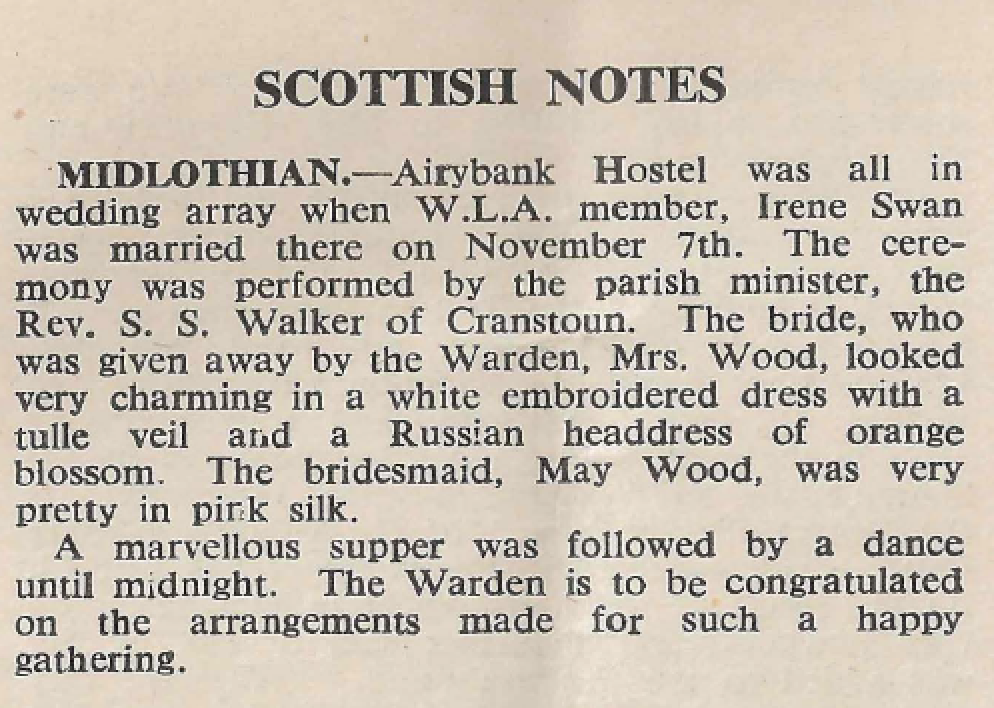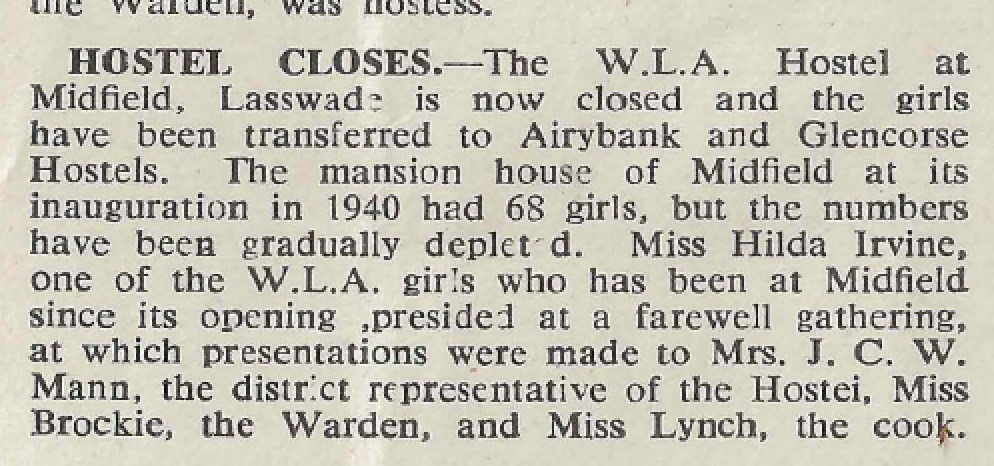 ---
Tracey Cann: Hi I have found a photo in my late mother's things of a couple with a baby. I think the lady was a land army girl on my grandad's farm in Cornwall. Can anyone identify the Land Girl and know where the farm is?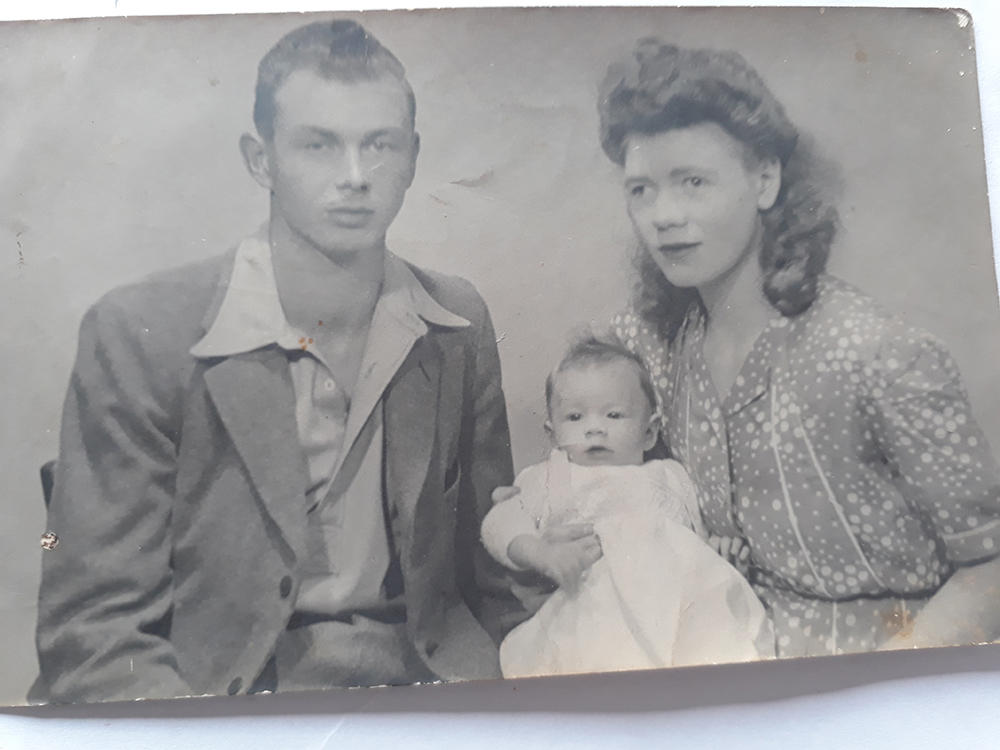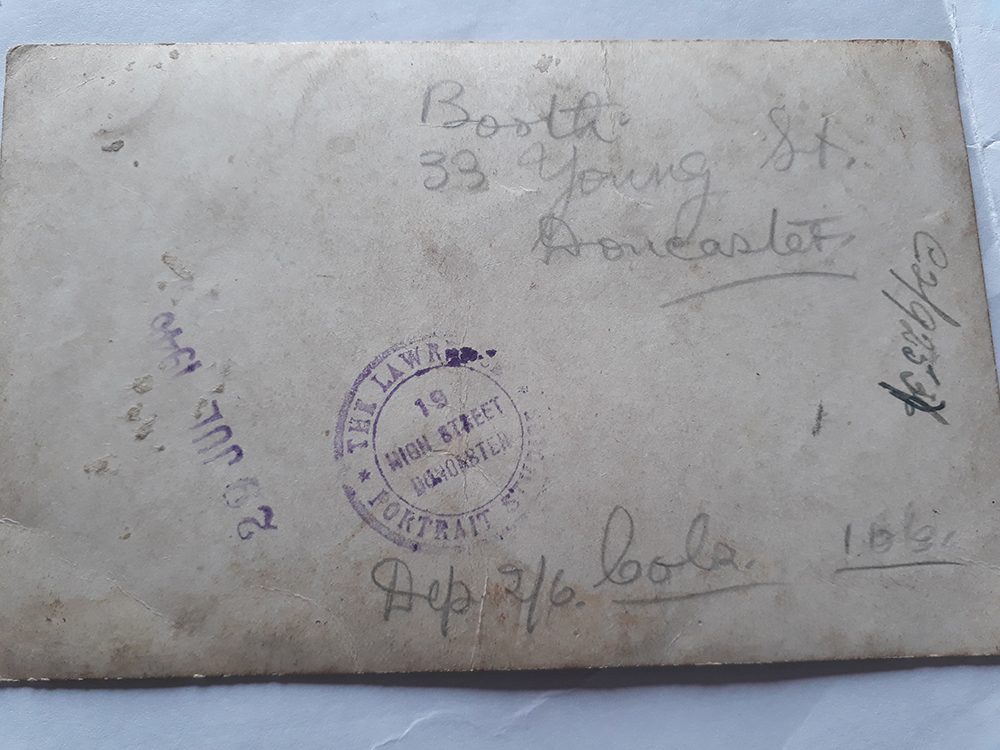 ---
Donna Etherington: I'm trying to find out any information about my mother's time in the Land Army in Lincoln during WW2. Her name was Ellen Telford, b.1918, from Northumberland. If it helps her parents were George and Ellen Telford and her date of birth was 11 April 1918. She was born and brought up in Palmersville, Longbenton, Northumberland. Her married name was Ellen Lowther and lived in Newcastle upon Tyne.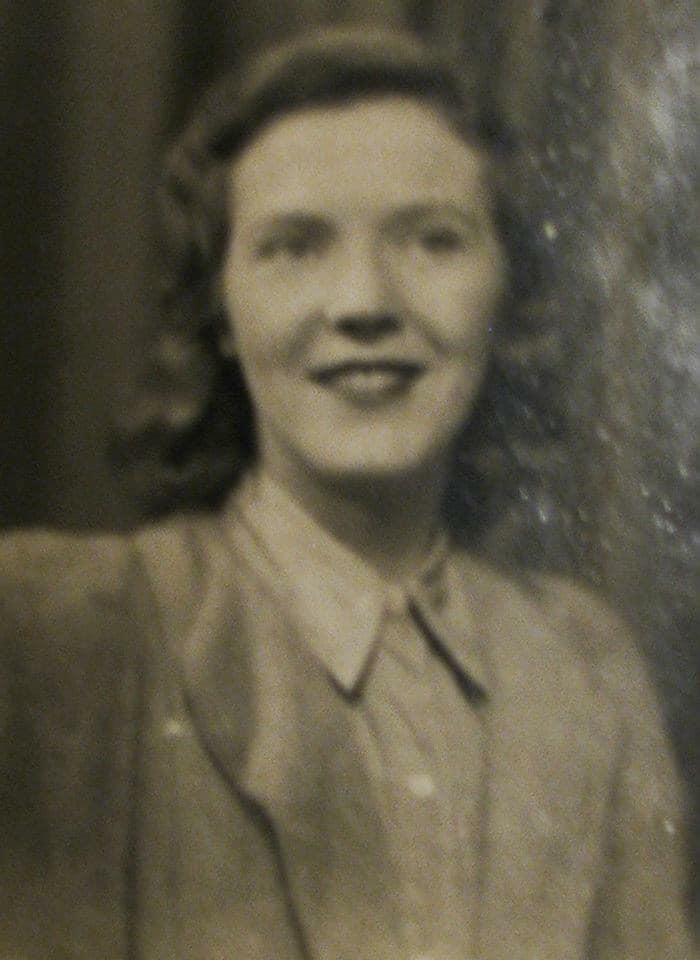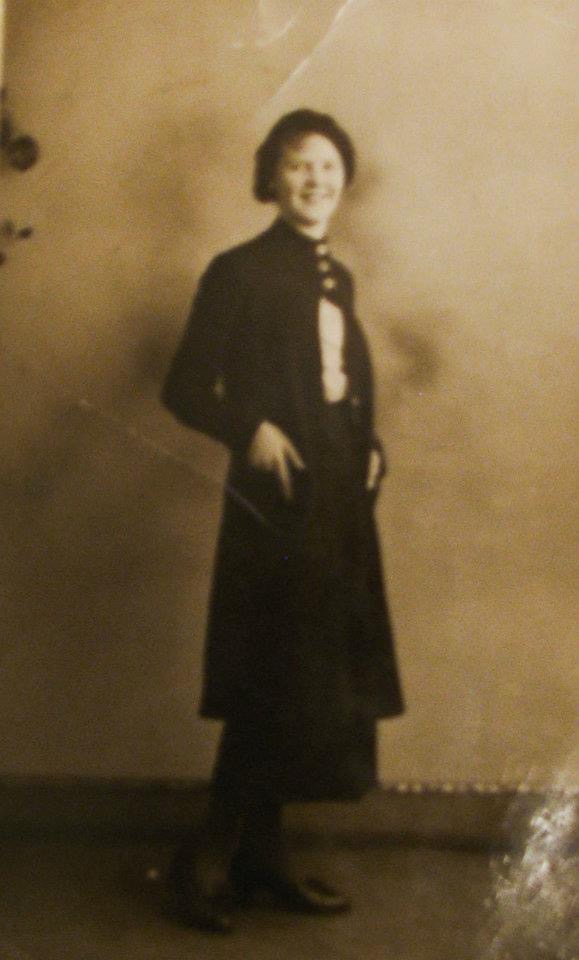 Linda Hardy: We're the Sherwood Forest Trust, a small charity working to preserve and celebrate what remains of the historic Royal Forest of Sherwood. The need for fast growing timber during two World Wars changed the landscape here in North Nottinghamshire. Large areas of our native oak and birch woodland became conifer plantations. We're considering a project on the World War II history of Sherwood Forest. We'd love to make contact with anyone who served in the Women's Timber Corps and worked in Sherwood Forest or Nottinghamshire. If you have stories or photos to share with us, please get in touch.
The Sherwood Forest Trust, Edwinstowe, Nottinghamshire. linda.hardy@sherwoodforest trust.org.uk
---
Tony Brown: Anyone know my mother Vera Craig who was 19 and was in the WLA and worked on a farm in Haydon Bridge, Northumberland and married James Brown the same year.
---
Denise Wilde: Both my mother and my aunt were Land Army girls in WW2, based somewhere near Wrangle in Lincolnshire. Their names were Gladys and Winifred Parkes and they originated from Willenhall in the West Midlands. Sadly no further information remains, so if you knew either of them, please do get in touch.
---
Steve Hughes: Hello I'm trying to find out where my mother in law, Kitty Hemmett, was based in the land army in Cornwall in WW2 as per her wish for here ashes to be laid there.
---
Barry Hunter: Does anyone know a Sheila Towns? She lived in Produe in 1945 and was in the Women's Land Army. She worked with Marion Dowes, who was stationed in Sadberg near Darlington.
---
Patricia Stone: During the war I was working for the Central Electricity Board (now the National Grid) as a typist. 2 sisters were also there: Joan and Edna Mountain. Joan was about 17 and left to join the Women's Land Army. Her sister and myself were younger and stayed in the typing pool. Joan came to visit once or twice, proudly showing us her uniform.
I have recently been carrying out some searches on the National Grid and traced a few of the old staff. It would be wonderful if you could give me any information at all re Joan Mountain. My name at the time was Pat Banks (I married in 1952). I will be 91 in March and Joan was a year older.
---
Kate Haskell: I am writing a series of articles for Devon Life magazine featuring Inspirational women of Devon. I can't think of anything more inspirational than the women who did their bit for the war effort, either through the military or in the Land Army. I would love to meet and interview a veteran who would be willing to talk about what they did and be featured in this article. Must live in Devon and ideally was based in the area during the war but not essential. If you know someone inspiring please do get in touch. My e-mail is: Kate@katehaskelltv.com.
---
Tony Whittaker: I am doing local history research about the life of Kathleen R C Hodgson who was Recruitment Officer for Surrey at the beginning of the war, and by 1944 a regional officer. She had been a student at Studley College in the 1920s. Any snippets of information about her, or the work of regional officers, what they did, and how many there were, will be gratefully received. I have found a March 15 1944 photo from The Tatler, which shows her with a group in Worcester.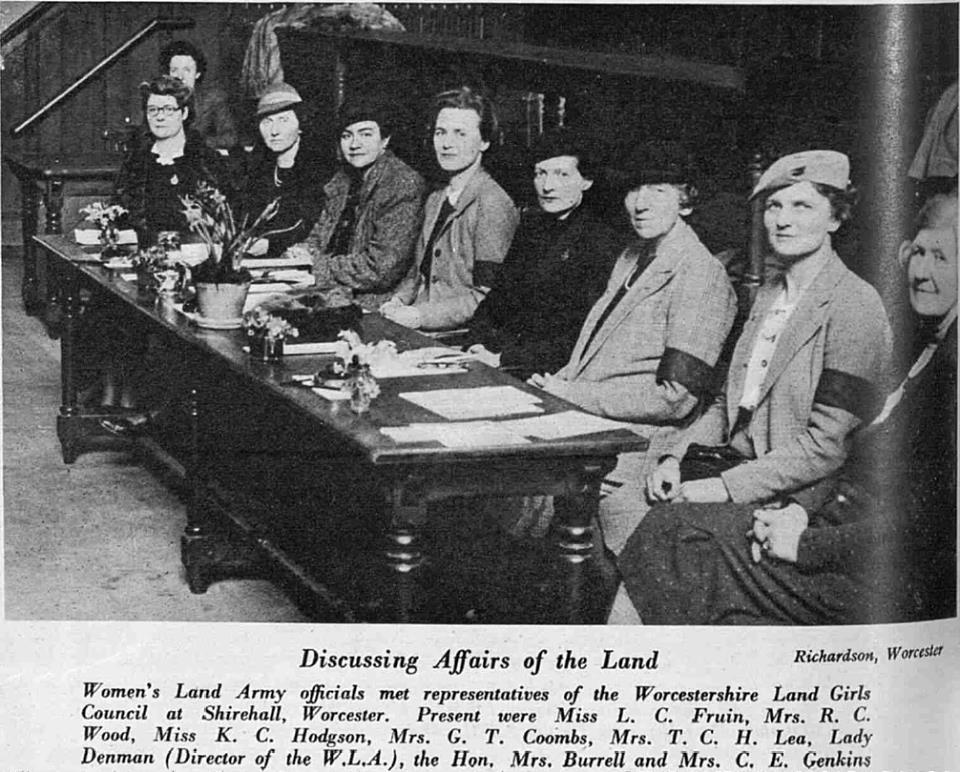 ---
2018
Tony Bevan: Hi My Name is Tony Bevan and I'm volunteer archivist for the Queenswood heritage gateway archive project. I'm looking for some information on the felling of Kingswood or today it's known as Queenswood county park Dinmore Hill Leominster. In WW1 the trees was cut down for the war, and I'm trying to find out if the Land Girls or the Women's Forestry Service where involved in the felling of the trees for the war?
---
Katy: Speaking to my mum about my nanna's past and was told she was in the Women's Land Army. Does any one have any information about her? Her name is either Mabel Lillian Horsewood or Barbara Horsewood, which she used instead of original name. Her birth date is 28/12/1926.
---
Phil Bird: I was wondering if you can help with any information about where my mother, Violet Elsie Tranter, served in the WLA or any other information about her. Below is a copy of her confirmation of being added to the "Roll" giving a reference number as W.L.A. 8741 and a photo of her in uniform. The only other information I have is from a cousin who remembers staying with her for a couple of weeks during the war in a place called "Little England" but he can not recall where this was. Perhaps this might evoke some memories from your readers. Another bit of information that may or may not help is my Mother's first husband and her brother were killed in 1940 in Belgium at the same time, defending the retreat to Dunkirk, I believe she was still in the WLA at this time. She remarried in 1942 to my father.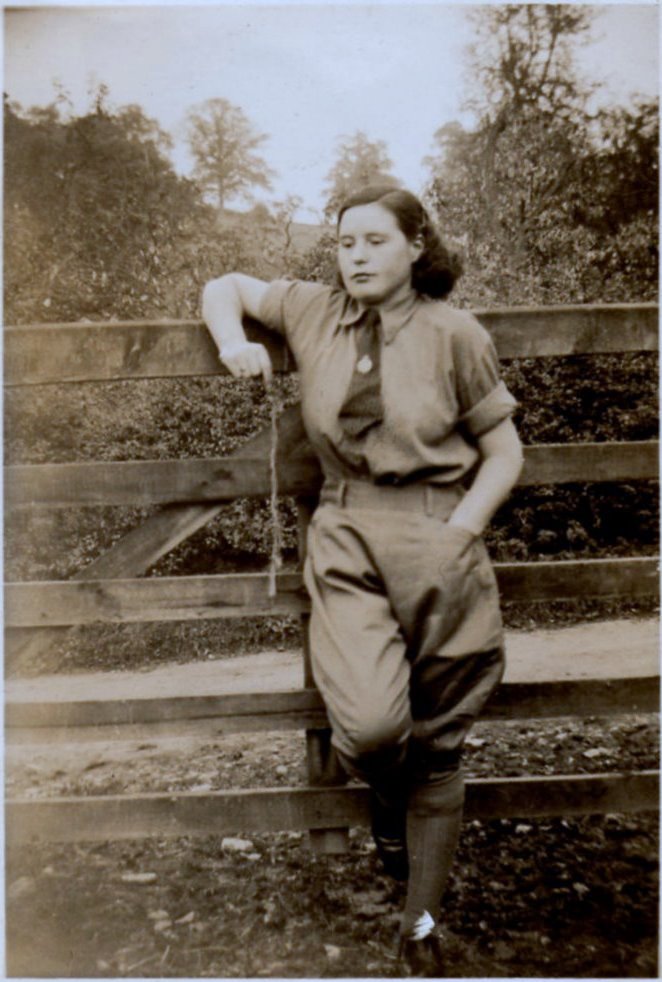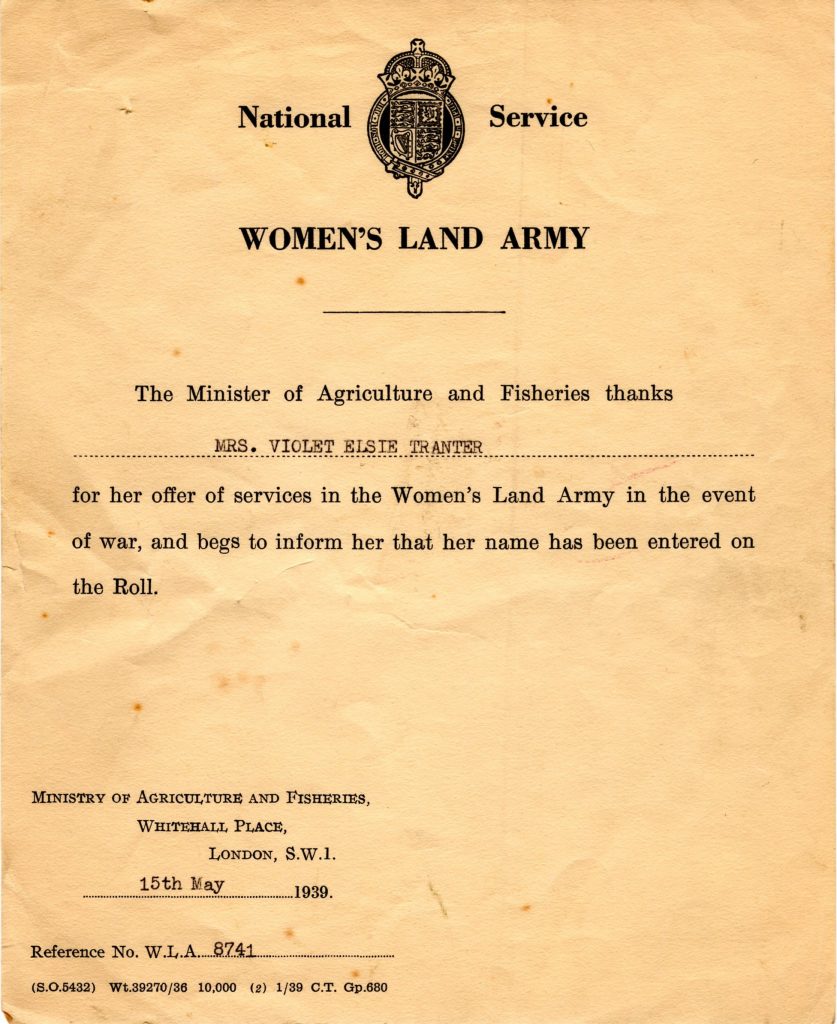 ---
Nicki Oborne:
My mum was a Land Girl in the World War Two, I know she served on a farm in Ffostraso in Wales, can you give me any advice on how to find out where? She worked
with another Land Girl called Rose Johns, nickname 'Johnny'. My mum's name was Phyllis De'ath and her nickname was 'Bunny'. We know there was at least one other land girl with them, maybe more. I don't know the dates but certainly 1942/43.
---
Dave Fletcher:
As the coordinator of the Oxney Local History Group, I was recently told in very vague terms of an incident where a Landgirl was killed by enemy action in my area during the Second World War. (Wittersham, Stone in Oxney, Ebony which lie some 5 miles from Tenterden in Kent.)
Now having carried out WWII research in my area I would be very surprised if any such information hadn't 'surfaced' years ago, but it's always possible.
If you can help me even if it's only to point me in the right direction I would be most grateful and if such an incident did occur locally to me it should be recorded for future posterity.
---
Eleanor Boyle: Looking for Land Girl veterans living in Canada, especially in Vancouver.

---
Shirley Mann: I am a novelist who specialises in war novels and I am anxious to talk to Land Army girls for my third novel. What I have done with previous novels is chat to the women who were in the WAAFs or the ATA to get a real insight into everyday life. It's this direct contact that I hope gives my books a real authenticity. I can travel anywhere in the country and it is just an informal chat so nothing to be worried about. Please contact me as soon as possible on 01629 822375/07803 160776 or shirley@harvestcreative.co.uk. I really hope someone can help me.
---
Pino Rovitto: Can you help Pino? His father Antonio Rovitto, born in Senise (Potenza) on May 9, 1920, was a prisoner from 1942 to 1946 in Berkswell. Instead of being in jail, he worked on a farm called Moat House Farm (Truggist Lane, Berkswell, Near Coventry, CV7 7BW). The farm was owned by Wilfred Taylor who was married to Emily. They had a son called David, who was a schoolboy in 1939. Pino believes his father had a child with a Land Girl who worked at the farm, or from nearby. He is now looking for a potential sister. Does anyone have any information about who this Land Girl might be?
---
Anne Humphries:
I should be grateful if you could put up a message, along with attached photo of Mum at about the age of 17 and a painting of Mum wearing WLA uniform, asking if anyone remembers my Mum, Margaret Winstanley. Very sadly, Mum died on the 1st July this year She had lived with my husband and I for the last 10 1/2 years of her life and we miss her greatly. She served in the WLA at a Farm in Appleton, near Warrington in Cheshire at some time during the 40's but she was always quite sketchy about facts and dates, which sadly became worse during the latter years of her life when she suffered from vascular dementia. I would love to learn more about Mum's life at that time and should be very pleased to hear from anyone who has any information or photos.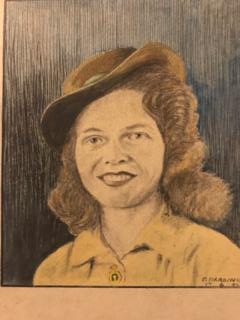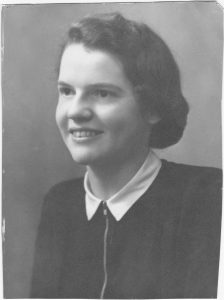 ---
David Daglish:
I am trying to find out where my late aunty served in the land army on a farm between 1939 and 1945, I know it was somewhere in Dorset as I visited the place with her in 1977 where she met the farmer in charge of the farm, her daughter recently asked me where it was so she could visit when on holiday but I could not remember the name of the village. My auntie's name was Jenny or Jennifer Daglish, she was from the County of Durham, I hope I have given enough information.
---
David Hookham:
I am doing some genealogical research on behalf of a good friend and am trying to find an unknown person (at present!!) I do know that she was in the Women's Land Army and that she was billeted at 13 Park Road, Holkham with a Mr and Mrs Painter between 1945 and 1950. Can anyone help?
---
Edward Freeman:
I am trying to piece together a history of my mother prior to coming to America. Her name was Joyce Lucy Airs. She was from Shepherd's Bush, London, England. She was in the WLA from May 1943 (approx.) to December 1945. I would appreciate any help you could offer. She may have joined along with some of her friends from Avondale Park Girls' Finishing School, or perhaps associates from her work placement in the restaurant at D.H. Evans Department Store on Oxford Street.
---
Aaron Weight: Theatre Royal Bury St Edmunds is seeking stories of evacuees to celebrate and share as part of an installation project to coincide with the new production of Goodnight Mister Tom this summer.
The installation project, which will run alongside performances of the show, aims to celebrate and share stories from real life evacuees in the local area, highlighting their experiences and providing fascinating insights for a new generation. The stories will be presented in the theatre's waiting areas via headsets for people to listen to actors re-telling the stories in the participant's words and they will also be shared via our website and social media platforms.
We are therefore looking to speak to anyone who was an evacuee during the Second World War themselves, as well as children or friends of evacuees that have a story to tell. We'd like to hear about what it was like in and around the area at that time. If you would be interested in contributing to this project please get in contact with Aaron, either by email Aaron@theatreroyal.org, by post: Theatre Royal, Westgate Street, Bury St Edmunds, IP33 1QR or by telephone 01284 829931.
Goodnight Mister Tom is set just after the Second World War has broken out and the life of Tom Oakley, an old man in the country, is about to change for the better. Having lived alone for 40 years he reluctantly takes under his wing ten-year-old William, an evacuee from London. As William begins to soften Tom's seemingly hardened exterior, an unspoken and unbreakable bond is formed. The performance and exhibition will run from Thu 24 Aug – Sat 8 Sep. Tickets are available at www.theatreroyal.org or call 01284 769505.
---
Rita Gallard: I am researching 'Women on the Land' for the final stage of a four-year public history project "Norfolk 1916-18: Somme to Armistice" at the Forum, Norwich. Any information about individual women who worked on the land, in whatever capacity, in Norfolk during and immediately after the First World War, or who left Norfolk to work on farms elsewhere, would be appreciated.
---
Kathryn Luck:
I am currently researching the Women's Land Army in Wiltshire during the Great War and would be pleased to hear from anyone who has photographs and reminiscences of any land girl working in the county. I am also interested in any 'village' women who were working on the land in Wiltshire at the same time. Most of the material I have found in the county archive and contemporary newspapers gives a clear idea of the WLA from its organisers' point of view, but there is precious little from the point of view of the girls themselves.
---
Shelley Moore:
I am researching my grandmothers time in the WLA.
I am visiting the National Archives next month, to hopefully be able to locate some record(s) but would like to go with as much detail as possible.
All I know is the following; my grandmother; Rosina Maud Cooper was born in Bermondsey, London in July 1926.
It is thought that she joined the WLA (unknown when exactly) where she was stationed in or near Aylesbury/Buckinghamshire.
She met my grandfather; Douglas Hugh Ingle, in Aylesbury and they got married in 1951.
What I am trying to find out is whether there are any known locations in or around Aylesbury and/or Buckinghamshire which are known WLA working farms and billets?
My search so far has not provided any leads and I am wondering if the information I have is entirely accurate.
Any information anyone can provide regarding WLA activity in and around Aylesbury and Buckinghamshire, or any useful resource suggestions or alternative nearby locations, would be greatly appreciated.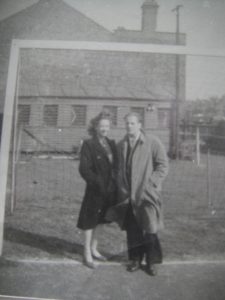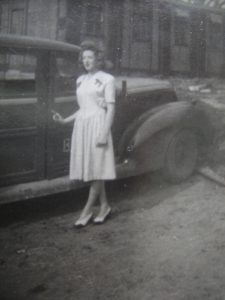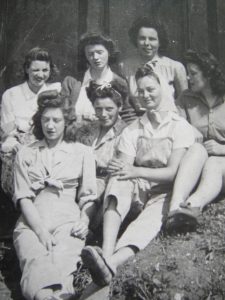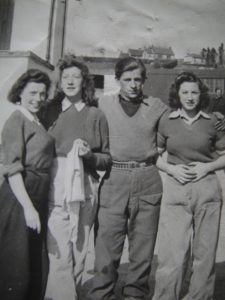 ---
Rosie Baldwin:
I am currently looking for potential contributors for a short documentary looking at the cultural changes in Britain now through the eyes of people who remember its past. I'd love to speak with anyone who has stories and memories around the changes for women during and after WW2, and who would like the opportunity to offer advice to a younger generation! It would be a very simple set-up, and a short shoot. Thanks in advance!
---
Michaela Nowicki:
Our family is after some more information on my grandma Nancy Anne Tomkinson who was registered in London for the WLA then was sent to Bedfordshire , is there any more info on time frame in London etc , anything would be great !
She was born on the 22/04/1921 , we knew about her life in the WAADs as we seem to have all that info but the
piece
that's missing is her time in the WLA which we are interested to know more about.
If you wish her memorial video is here:
https://youtu.be/hMG-QafKjeI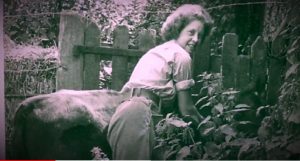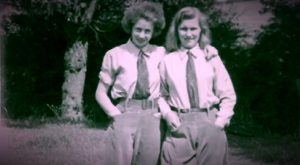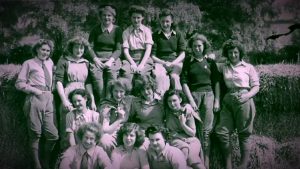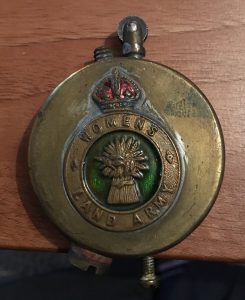 ---
Neil Bright: I'm trying to contact Alice Racher who lived in Eastbourne. She is my great Aunt and can assist with family history. I last heard of her in 2014 (Arboretum opening in Staffs), but cannot get a response from her address. Can any one help?
---
Jane Davies:
Had the unfortunate task of clearing the patenal family home and found a book belonging to my great-Aunt, Mair Eluned Davies, which was presented to her from her church when she left to commence work in the Land Army in 1942. She has written her number, 77977 and her base: Hostal Croesgoch, Mathry Rem, South Wales. Would you have any information relating to her time in the Land Army (which I believe to be rather short), where she was based etc.
---
Jeannette Baldry: I am researching the Women's Land Army, Stowmarket Suffolk, during the First World War, for an article I'm writing for our Local History Group to celebrate the end of WW1. We will be focusing, not just on military personnel but also on those who defended the Home Front, how ordinary people carried on their lives at home. I am focusing on the Women's Land Army in Stowmarket at this time. I know they were here and have also found an article written by a Land Army member. Can you advise on where I might find information for this area?
---
Hilary Hunter: I am at the beginning of my research into the women working on the land in Kent during WWI. This is to develop a display, and perhaps even a booklet, telling their story and tying in with the environmental project I am working on. I am particularly interested in stories of individual women involved in Kent at that time, if they can be found. It is planned to finish this in time for commemorative events later this year, tying in with the centenary of both the end of The Great War and (some) women gaining the right to vote. I am particularly interested in stories of individual women involved in Kent at that time, if they can be found. It is planned to finish this in time for commemorative events later this year, tying in with the centenary of both the end of The Great War and (some) women gaining the right to vote.
---
Sally Coles: My mother, Joyce Camp, served in the WLA in Kent from 1942 to 1946, and I have photos of a large house called "The Knoll/ Knowle" where I believed the girls lived. I've been unable to discover the location of this building, and I wonder if anyone else can shed any light on its history, and whether it is still standing? I know that part of her service involved working on the Brands Hatch racecourse, which was used for agriculture during the war!
---
---
Paul and Wenda Lowenthal:
My wife and I noted a history point on a house called Cwlach House on the south side of the Great Orme in Llandudno. The property had been used as a convalescent/rest home for the Women's Land Army. Do you hold any information on the property, who owned it at the time, it's full usage and possible residents? Any information would be most welcome.
---
Tracy Wathen~Jones:
I grew up with a market gardener Nan and a small scale dairy farmer Great Uncle with whom I spent most of my spare time. They were both fantastic storytellers and I loved hearing about their farming antics growing up on farms with 11 other siblings. Stories about the Second World War featured amongst their stories.
I have spent my life working and studying land management of one sort or another including Organic Horticulture & Farming with a particular interest in micro~dairying. I am an occasional writer for the Soil Association and write my own blog.
I have always had a particular interest in The Land Army and I have a book idea I am working on where I foresee an introduction to The Land Army, hopefully including some wartime recipes, but then moves onto profile modern day women farm workers who are not from a farming background.
I do not have a publishing contract so I can't sadly make a promise that this will end up on the shelves but I would definitely turn my research into blog posts as an alternative output.
So I'd love to hear from anyone who would like to contribute their story to my research. I can be contacted at
tracydwjones@gmail.com.
2017 onwards
---
Lesley Wormley:
I am in the process of making a family tree and remember my mother, Betty Spurr, saying she was in the Land Army during the war. I remember she used to write to the farm owners for many years afterwards until the farmer, Tom, died. I cannot remember his surname or the name of his wife but the address was in Poppleton, Yorkshire.
Unfortunately I don't have any early photographs of my mum. She was born in April 1929 and was slim with short, blond hair. She never talked about the other girls on the land but she said she drove a tractor sometimes. I think she worked on a farm with cows that she milked but I'm not sure. She lived in Leeds and was one of the youngest in her family of 6 children.
---
Leanda Hammond: Does anyone remember a Thelma Robbins (from Rugby then lived in Bristol), aged 19 – 22, working on a farm on the outskirts of Cheltenham at the end of the war and for a while afterwards. I am trying to trace my now sadly late mother's daughter, Andrea Dawn Robbins, born then, that is to say my sister by both my parents, as they later married and had me. But my mum had no recourse than to have my sister adopted early in 1948, my sister was born 5/9/1947 (more details on my FB page 'Leanda Hammond' if you're interested.) She left the WLA because of her pregnancy. But she recounted her time in the WLA so vividly and loved it with all her heart. For more information, please click here.
---
Helen Frost: I am currently trying to obtain more information about the Land Girls who enrolled/trained and worked in my home county of Northamptonshire during WW1. Any photographs, stories of where the girls were billeted, locations of farms, villages etc. Also, documentation that shows details of working and being a Land Girl in Northamptonshire during The First World War. I would be very grateful if anyone could share anything on the above. Thankyou very much.
---
Steve Hook: I am trying to trace a land army girl who worked at Rippon during the war. The only information I have is her name was Elsie and she new my late father who was a cowman on the farm and lived at Rippon Hall.
---
Sandi Wildash: I am researching the Women's Timber Corps of WW1 with particular interest in North Devon. My interest was sparked by a reference to "a tented women's camp in the forest in Devon being flooded out" but have been unable to find out where and have a reference to a women in the Second World War who had been in the Timber Corps in WW1 but no name.Can anyone help?
Although I have located the forestry camps in North Devon in WW1 I have only found reference to Canadian or Portuguese male workers so I think the article is possibly referring to a women's camp in South Devon based in Lydford Wood.The women mentioned as working in the WFS in WW1 was from our local newspaper "North Devon Journal".
---
Kate Saunders:
Did you, or any of your family, drive a tractor/car in WW2? Heritage Project are looking for stories/photographs of women who drove any in the Second World War in Somerset. Please contact Kate Saunders at
katefilms@btinternet.com
or mobile 07785 962 466.
Look forward to hearing from you.
Brian Maddar: I am looking for Ida Smith, no date of birth. It is believed that she was a land girl. Ida's last known address was 626 Ashton Old Road, Openshaw, Manchester. Her son was born at Berryfield House, Bradford on Avon, Wiltshire on 15/02/47 and he feels that it is highly likely that Ida was employed as a Land Girl in that area. (This ex-stately home was bequeathed to the nation as a military hospital during WW2, becoming a maternity hospital immediately afterwards. Having been briefly owned by ex-Olympic swimmer Sharon Davies, it is now situated within a street called Manor Gardens and has been converted into a gated luxury apartment complex).
---
Elaine Smith: My Grandmother was enrolled and I would love to find out more about it. Her name was Jessie Ward or Jessie Hartgrove at the time and would have been enrolled between 1942-1945. She would have been based in and around Childerditch in Essex.
---
Sheila Wales: I was in the Land Army from 1948-1950 with my sister Connie and was stationed at Charlton Hall near Alnwick. I would love to hear from anyone who was there and may remember me.
---
Emily Ashworth: I'm Emily Ashworth and am writing a series of memoirs on the Women's Land Army in memory of my Grandma, Vera May Whyte (Flemming) Ashworth. Originally from Liverpool, she was called up to join the WLA in 1944 and was sent to Devon. She was then posted nearer to home due to family illness and headed for Clitheroe where she met my Grandad, the war time farm becoming her home until she passed away this year, aged 90. My first daughter only got to meet her for a while, but is named after her – after a woman who was the epitome of strength. I have always wanted to write a book based on the tales Grandma told me but it seems now is more appropriate than ever. Before we know it, the living land girls will be gone and I want my daughter along with all the other little ladies of her generation to know what inspiring women really look like. You can be strong, tough and fight against the odds and be a woman. The members of the WLA were truly incredible, but to forget them and their stories would be truly disastrous. Each and every one of those women played a part in history, a part that made a difference to every one of us today. If anybody can put me in touch with any remaining land girls, I would be so grateful! Thank you.
---
Kate Werran: I am researching a war-time shooting involving American GIs in my Cornish father's hometown in 1943 and I'd love to see whether there are any former landgirls – or the children of landgirls – who remember it. There was a court martial following it and according to the court documents, and newspaper reports at the time, there were several land girls, working around Launceston, who were there at the time.
---
Catherine Rountree:
I'm trying to look for a couple of women who were in the Land Army with my mother in Lakenheath. Her name was Mary Alice Pendleton. She married Sidney Smalley. They are called Doris Gilman. She was one of my mother's bridesmaids. Also looking for a Jean Townsend.
---
Stephanie Rothwell: My Nan was a member of the Timber Corps. I would love to find out more info about where she was based and when. Her name was Beatrice May Mulrine, more commonly known as May.'
---
Sarah Head: My father, Pryce Watkins, who was apprenticed to Mr Reader, the owner of Bragginton Farm, Dorsington near Stratford on Avon has asked me to discover if anyone has any contact details for Hilda Bill, was was one of two Land Girls working on the farm with him during the war. The other Land Girl was Joan Shellard, who died from TB. Another land girl who was friends with them all and worked at the neighbouring farm of Bobluck owned by one of the Hodges family was Rhoda Hughes. If you have any information about Hilda Bill or Rhoda Hughes, please could you get in touch with me.
---
Rhian Bambrey: I am currently researching for a book at the moment about my town and areas wartime history. I live in Lampeter, Ceredigion and grew up 6 miles away in a village called Felinfach. I have been told there was a Women's Land Army hostel at Felinfach and I am looking for anyone who may remember it. Would you be able to help at all with my search?
---
Maxine McLaren:
My mother Mary Grace Gibbs served in the WLA between May 1943 & June 1945 in the county of Surrey. Mum was billeted with a Mr & Mrs Frank Allen in Lingfield & was part of a team who worked on local farms in the area. I would very much like to know if any farms Mum worked on may have survived & can be identified. For photos, please
click here
.
---
Tania Berry:
I've decided to put together a memory book for my Nanna's 90th Birthday, she suffers from dementia so I thought this would be a good gift for her to have. Her maiden name is Irene Callear. She has lived in Knottingley most of her life but served in the Women's Land Army in Kent during the 2nd World War, her date of birth is 2nd June 1927. Does anyone have any old photos or stories which I may use please? I know it's a long shot but please e-mail me if you find anything. Thank you.
---
Melonie Clarke: "As the centenary of the launch of the Women's Land Army is this year The Lady would like to do a feature about the subject. I can't imagine there are any land girls alive who served in the WWI but I'm looking to talk to any women who served in WWII. Can you help at all?" Please e-mail Melonie.Clarke@lady.co.uk
---
Emily Ashworth: Looking to gather stories from the ever inspiring ladies of the Women's Land Army. My Grandmother was a land girl and in honour of her, I wish to put together your memories to make sure you and your incredible lives are never forgotten. Thank you!
---
Linda Burnett: I am wanting to scatter my mums ashes and remember she had extremely happy memories of her training in the Land Army in Market Weighton, East Yorkshire before being sent to Ware in Hertfordshire. I remember her mentioning her time being spent at Rowley Manor but cannot find anything relating to the Land Army or MOD being there. I was wondering if you had any information regarding Rowley Manor and the Land Army training in the area.
---
Jacqueline Hunter: I am writing to you in the hope that you can help me with some info. My name is Bernadette Cox, but I was born Jacqueline Hunter on 21st September 1943 at Southmead hospital in Bristol, Gloucestershire, UK. ( I have enclosed my birth certificate ) My mother's name was Lilian Matilda Hunter and she worked in the Womens Land Army around the time I was born. My mother could not care for me and put me in to Nazareth House around the age of 7 months old, and I was in different homes from then on until I was sent out to Australia, (where I now live) as a child migrant on 21st August 1952, I was 8 years old then and ended up in St. Joseph's Orphanage in Sydney, and was later adopted by a family. I do happen to know that my mother had 2 more children after me, and by many letters I have here I don't think she coped with them either. I have a researcher helping me at the moment, and she has asked me to contact you to find any information on Lilian Matilda Hunter, especially if in your records you can find when Lilian was born and also where she was born, that would be a great help. I am searching for any siblings or cousins, I would very much doubt if my mother would still be alive, but the researcher cannot do much unless we trace through my mother's records.
---
Richard Pell: My late mum was stationed at the Land Army Hostel at Brampton Ash,near Market Harborough, Leicestershire. We have no other info of her time in the land army. She was originally from Hornsey in London and moved to Lincolnshire when she married.
---
Barbara Maclean: I live in Australia my family & I emigrated here in 1965. My mother's name is Mary Beatrice Snape ( Nee Jones ) Mum & her sister Dot both lived & worked at the market gardens in Herefordshire for around 3 years during WW11 Mum is still alive and is 96 nearly 97 on 6th of March and is an amazing woman I have heard about their extremely hard work aching bodies to tired to eat their dinners at night when they returned for the first few weeks until there bodies got used to all that hard labor as this was all men's work at the time.
Most of all she talked about the commradary between all the girls.
I have a photo of a group of ladies I don't know who they all are but my mother and sister are in it. Is there anywhere that I can get information on my mothers time in service here . her enrollment number ?
---
Frank Lewis:My auntie served in the Land Army during WW2. I further believe she worked on a farm in Frodsham. Her name was Dyllis Salter. I am looking for any information on her service.
---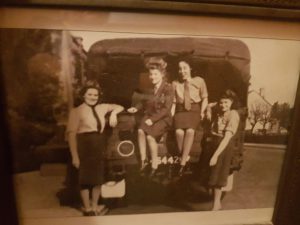 Gemma Conibear: I would like to find more information on where my grandmother was based, her role, her service number and any other interesting facts or knowledge. I will now furnish you with as much details as I am able to provide in relation to my grandmother.
Name: Lucy Doreen Pritchard.
Date of Birth: 27th March 1923 (Born within Barry, which at the time, I believe was The County of Glamorgan, now The Vale of Glamorgan).
My grandmother is second in from the left or third in from the right and the only one within the photograph wearing a blazer.
---
Ruth Salter:I am currently undertaking a research project on the Land Army in Kent during World War Two for my undergraduate degree, and so I am looking for information on the subject that I can include. I came across your website online, and wondered if you might have any contacts who served in the Kent Land army at the time that might be able to assist me in my research?
---
Vicki Carter: I'm trying to find out where my mother, Joan Berridge (may have been known as Joanie) was in Caerphilly during 1948 while with the land army. Her name was Joan Berridge and she would have been about 21yrs old. Any information on farms in Caerphilly that the woman worked on or areas ? I belive it could have been the Abertridwr area, Cearphilly, Glamorganhire? See photo on the right hand side.
---
Winifred Dickens: My mother went to work at Bourton Manor, near Much Wenlock, Shropshire around 1945 onwards. She originated from Stoke on Trent. Her name used to be Win or Winnie short for Winifred. Married a local man Harry Lewis. Her maiden name Goodwin. I'm looking for any photos that someone may have with my mother on.
---
Christine McKay: My Mum was called Ivy May Warne (04.11.25) and she worked on a farm in the Tedburn St. Mary area of Exeter. I'm trying to find the farm. Any information on where the farm might be would be much appreciated.
---
Brenda Reed: My late mother use to be in the Land Army but unfortunately I know very little about her life then. Is there anyone I can contact to find where she was "stationed" and the date when she joined and left. Her name was Betty Hilda Read and she lived at 41 Nightingale Grove Hither Green Lewisham London SE13. Her date of birth was 8 December 1918. My mother passed away in June 1992.
---
Rita Metcalfe: I am looking for any information about my mum who was in the WLA. Her maiden was Evelyn Newsome DOB 17/05/1924 . She orginated from Bradford West Yorkshire. she started in North Yorkshire possibly near Leeming Airfield in early 1941. She was moved to the The Rothchild Estate which is down south. Later she was moved again near to Brighton.
---
Christopher Rooney: Did someone in your family serve in the Women's Land Army? Would you like to chronicle and celebrate that in a Life Story Book? I am a professional writer. I'd like to hear from anyone who is interested in having a book written about a relative's time in the WLA. The Life Story Books I write are not published commercially. They are unique and memorable gifts, becoming cherished family heirlooms. For more information, please click here.
---
Rodney Pearson:A play I have directed about the Land Girls in WW2 called Lilies on the Land is to be performed on Cobham Heritage Day (10 September) at Cobham Village Hall, Cobham, Surrey. The play, which we previously presented at the Leatherhead Drama Festival in 2015, follows the fortunes of 4 land girls from different backgrounds over the course of the War and is set against the passing of the seasons. The script by co-operative theatre company the Lions part is based on letters written by former Land Girls about their experiences. As part of the evening, I would like to include reminiscences of former Land Girls who live in Cobham or whose families are from the area. Please could any Land Girls or their families please get in touch.
---
Lynn Jones:I am looking for any information about my mother who was in the WLA. Her name was Edith Wharton (maiden name). DoB: 19/06/1928. She orginated from Broomhill Wombwell, South Yorkshire.
---
Pam Holmes:I am looking for information on mother's sister Eleanor/Helen or Nell as she was known to the family. She was born in 1919 in Islington to Eliza and William Evans and lived in Rahere Street. I am almost certain she was in the Women's Land Army during the war, but other than that, have no further information.
---
Nikki King Smith: I am looking for information on my mother's time in the Women's Timber Corps. Her full name was Joan Pricilla Hayward, born 7/8/1923 and she was from outer London. She had had polio, so her left arm was shorter and she had a heck of a sense of humour. She mentioned being on the building of a submarine base, East Coast….England/ Scotland ? If we can find anyone who remembers her it would great. Plus we were hoping to go to the places she may have been, in a small way to pay homage…..
---
Rebecca McCabe: I'm hoping to find out more information about my Nan's time in the WLA and would love to make contact with any of her friends then. I know she – Joan 'Blondie' Makin – stayed at Coome End in Woking and she always spoke fondly of her time there post-WW2. I have many photos of her with her pals 'Freckles', Ray, Joyce Walters, Maureen and Daphne. Nan became godmother to Daphne's daughter Carole. If anyone can shed any light, please get in touch!
---
Will Hodge: I'm searching for any information relating to my father's registered place of birth – Northfields, Langton, Speldhurst, Kent. So far my search has uncovered very little apart from a thread of comments of someone else on a forum also searching for information. The thread lists the WLA as something to do with the home – he was born in 1945 and I wondered if you would have any details about it? I'm unsure whether Northfields was a home or a hospital or what it was but I know it no longer exists. As I say, this is all I have to go on so far in trying to trace the ownership of the home as well as trying to understand why my father would have been born there when his family lived in London which is where all his siblings were born.
---
Vicki Carter: Would love to know where my late mother was while in the Land Army. I only know it was South Wales, probably near Abertridwr in 1948. Her name was Joan Edna Berridge. She came from Poole or Ringwood.

---
Elisabeth Sweeney: If by chance there is someone out there whose mum is called Beryl who may have served in the Women's Land Arrmy in WW2. My mum is coming up to 90 years old just before the New Year so be nice to hear if Beryl or a family member right is out there. She has a lovely photo of herself with Beryl and another land army girl in a truck. My mum comes from the Lake District but moved with the land army from Cumbria to Hertfordshire. Stayed in the Totteridge Hall in north London using the local pub the Rising Sun. See the photos here.
---
Ollie: I am trying to trace details about Elizabeth [Betty] Merrett (née Long, I believe) who served in the WLA in Sussex. I believe she married John G. Merrett in 1949. Is hers a name you have come across? She trained as a rat catcher in WLA (http://www.iwm.org.uk/collections/item/object/205199694). She later worked as a War Ag tractor driver (http://www.bbc.co.uk/history/ww2peopleswar/stories/61/a4972061.shtml) and she featured as a model for a Land Girl in St Clements Church window, Hastings (http://annisbetweenworlds.blogspot.com/2011/08/lady-of-stained-glass-window.html;http://www.geograph.org.uk/photo/4045437).
---

John Cogan:I am the organizer for a photographic group who are mounting an exhibition of World War 2 veterans to support the Royal British Legion's Annual Service of Remembrance held this year on 7th November at Newcastle Cathedral. To this end I am asking you if you are in a position to introduce me to any veterans still living in the NE Region… we define that as Northumberland, County Durham and Tyne and Wear. Our regional RBL organizer is David Bell and our own website is wwww.portraitsfromthenortheast.org
---
Mark:I am trying to find out about my Aunts' time in the Land Army. Her name was Lilian May Nellie O'Dell born 18 Feb 1923 in Kensington, London & lived around Kensington & Harrow. Her maiden name was ODell sometimes written O'Dell, her married name Smith.
---
Martin: I am trying to find the location of the farm in Pembrokeshire where my mother worked while in the Land Army after WW2 and wondered if records of this type were kept.The farm was called Coed Ffynon, or Ffynone. My mother's name at the time was Marion Beryl Stauber and she was probably in her late teens when she joined the Land Army as she was born in 1930. Finding the place where she worked is of sentimental interest to my sister and I as it was where mum met our father. We would be grateful for any clues as to the location of the farm.
---
Julia: I am trying to find out some information about my late mother. She was born in Balmerino Fifeshire Scotland around 1914 her name was Sarah, Johnson Duncan, she left Scotland to enlist in the Land Army and was billeted to somewhere near Newquay, Cornwall I am trying to find out where that somewhere was. She met my father who was local to the area, they married and I was born a few years later. She was killed in a car accident in 1961 when I was 11 years old and was something we didn't talk about!My Mother's name was Sarah, Johnson, Duncan known as Sally, her d.o.b. was 15 th July 1916, 100 years ago! She married and became Sally Arthur. To see photos, please click here.
---
Marc: I'm trying to find info in my nan who was in the land army during Second World War and married in 1945
Name: Ivy Studd (was Talbot )
DOB: 9/4/1924
Married: James Thomas studd 1945.
Served in land army during World War Two
Francesca Baker: My Nanna was in the Women's Land Army on the Romney Marsh, an experience she was never expected to have, and where she met my Grandad and had a rather sweet and romantic start to a marriage which changed her life. I am writing a novel based on their story, but as she was sadly shunned by her family for joining the Land Army and marrying my Grandad, and she herself has passed away, I have no family to ask. Would anyone be interested in sharing some of their experiences of being in the Land Army, the highs and lows, work, emotions, and small moments? It's just to research and get a feeling for what it was like – even though I can't ask Nanna I still want to try to tell a story. Please email me on fbaker@live.co.uk or message me on Facebook if you can assist! Thank you so much x
---
The Rev'd Martin Flowerdew: I recently found the membership card for Miss M.L.McClary No. 38292 in a secondhand book I purchased. It would be good to reunite it with her [outside chance I admit] or her family. It was signed by Lady Denman and Cecily Cornwallis, dated 24.5.41. Please contact me at one of the below…Vicar of Foremark, Repton and Newton Solney, 01283 619686, Repton Church Website: www.reptonchurch.org.uk
---
Coral Oliver: The lady I am looking for is called Pauline or Marjorie and she would be 88 years old. I understand she is/was a rare chicken breeder in either Essex or Bury St Edmonds and
she worked with my mother in the Land Army. My mother Betty Tucker , 41 Croft Way Horsham, Sussex died on 5 May 2009 and she came to the funeral on the 14th May 2009 at Worthing Crematorium.
My Mother details from the National Archives
W.L.A. 153201
Miss Betty Siliva Spence , 17 Orme Road, Worthing, West Sussex
Age 17 (8.7.27)
Occupation Machinist
Entered 1.2.45
Released: Sussex on medical grounds 18.4.50
---
David Locke:My mum's name was Betty John Hood, D.O.B: 8th April 1930. She lived in Warwickshire. Please could any one get in touch who may have information on my mum's time in the Women's Land Army.
---
Vicky Pyatt: Can anyone help me in finding information about my Grandmother please? She has recently been diagnosed with Alzheimers and memories of her younger years in the WLA bring her many happy hours reminiscing while her short term memory is no longer…. She served in the WLA in WW2. She enlisted in Andover Hampshire and then served in Dorset, Sussex and on the Broadlands estate in Romsey Hampshire. She married in 1949 and subsequently left the WLA in 1950 to have her first child. Her name then was Irene Rose Peacock or Hilditch. Then married to become Irene Rose Bean. She lived in the southampton area but joined the WLA after leaving a Banardos home for children. Her Dob is 5/12/29 but it's quite likely she lied on her application about her age!!!! I've contacted the imperial war museum for her index card but would love to get my hands on a photo of some sort. I don't know where to start……It would mean so much to her. Thank you.
---
Linda Wade: I would appreciate any information as I am digitalizing WLA photos that belong to my Aunt and Mother-In-Law for the WIU Malpass Library in Macomb, Illinois. They had served in the WLA during 1941-1946.
Does anyone know of a Rulah or Rulab farm around Milford or Gilford, England?
Does anyone know where Black Meadow is or which farm it was on?
Does anyone know of a Hewitt/Jewitt (her handwriting is illegible so that is my best guess) Farm?
Does anyone know if there is a Farencomb (the best I could make out from her handwritting) Farm or area?
All these locations would have been areas around Milford or Gilford, England as Margot and Ursel lived in a Hostel and worked in that area.
Was there a Secretto or Secreto Farm?
---
Jane Baxley: I am most interested in finding any information, medals, certificates etc that may pertain to the service my mother provided during her time in the Land Army during WW2. Her name was Dorothy Wilkinson, date of birth 13 January 1920 and at one point was assigned to farm work in Banbury. She died in 1990 and I am trying to compile information for her posterity including my siblings, her children, and their children and grandchildren. I would love to know if there is anyone who may have known my mother or trained with her, she has recorded in a small journal;
had six months of training…… I was sent to work on a small mixed farm at a place called Shotswell, near Banbury……………………………………….I learnt how to handle a horse and milk float and enjoyed being at this farm where I was treated as one of the family, living in the farm house. The work was hard and I had a half day, well almost a half day off,which I usually spent with my boss and his wife at Banbury where she did her shopping……….occasionally I went to a village dance, but as I had to be up by about 6 am each day this was not often, and as my employer was a Plymouth Brethren he frowned on the idea
The training was on a farm owned by the Birmingham Cooperative Society at Lea Marston, Warwickshire.
It would be wonderful to hear from anyone who may know of the training farm or the farm where my mother served and was obviously treated so kindly.
---
Scott Tanswell: Do you remember the Dig For Victory Campaign in Manchester during the Second World War? If so, I would love to hear your memories. Please click here to view my poster.
---
Julie Newman: I'm researching the Women's Land Army in WW1 for a short story to be published later this year in an anthology. I would like to know how many, if any, women were recruited for work on farms in Cornwall and if so, when and where?
---
Jonathan Rowe:Has anyone any info on the WW1 Women's Land Army Training Centre set up by Mrs Bonville Fox of Brislington House Asylum, then part of North Somerset, now a suburb of Bristol. It was said to be the best in the West Country! Mrs Fox ( Annie) also founded the first WI in Brislington in 1918. Any leads would be great. Thanking you, Jonathan Rowe (Brislington Conservation & History Society)
---
Shaun Peters: I have an enquiry regarding the Women's Land Army being based at a farm in Churt, Surrey which I understand to have been owned at this time by David Lloyd George. I am aware that my grandmother worked as a Land-Girl and that I have, somewhere to be found, a photograph where she is pictured amongst others with David Lloyd George. Another photograph, I gave to Roy Hattersley who had given a talk on him which I saw a couple of years ago. Is it known if there are other photographs which might be able to be viewed or more information to read please?
---
Ian Shankland: Hello, along with my two friends I'm trying to solve a mystery surrounding a missing 18thC farming diary that disappeared with an American soldier in WW2. We believe that the land girl working on the farm at the time might be able to help us. We know her name was Margaret and think her surname was Hudson, or a similar sounding name. The farm was Glebe Farm in Sarsden near Chipping Norton in Oxfordshire, and we know Margaret was there between 1943 and 1944. If anyone can confirm her surname, or help us get in touch with Margaret or her family, we'd be most grateful. We've posted a photo of Margaret on our research website which also has a 'contact us' link at the top of the page. Here's the page: http://www.annehughesdiary.co.uk/photo-margaret.html Many thanks, Ian Shankland, Anne Hughes Diary Research Team
---
Susan Hopkins: My Grandmother Muriel Conibere was in the Woman's Land Army during WWII. She lived in Norton Fitzwarren, Somerset and had a young child so she would have worked in the immediate area I imagine. She became a war widow in 1943. I know she was in the Land Army as I have her badge, however, I have no idea of the time period she served and I would like to add it to our family tree. I have tired the National Archives but I find it quite hard to use so I had no luck there. As I live in Australia I can't just pop into local history centres and have a look for any info. If anyone could help me with this I would be really grateful.
---
---
Peter Heywood: My name is Peter Heywood and I'm looking for Joan Escott. She was in the Women's Land Army during the end of WW2 and was based at Torrington, North Devon and then went to Sutton House, North Yorkshire. From there she went to Cayton House near Scarborough and this is when I lost touch with her. We were pen pals for 6 years and I'd love to hear from her or anyone who knew her. Please contact me on 01827 880023. Thank you.
---
Nadezda Bulajic: My mother was in the forestry part of Women's Land Army and was working around Helmsley/Thirsk. We are trying to find out which woods she would have worked in and where she lived. Her name was Gladys Whitaker and she was from Bradford West Yorks. She used to meet for a reunion in Thirsk for a number of years. Many of her fellow workers were from Newcastle area. Her married name was Bulajic. If anyone can help we would be very grateful. Please contact Nadezda Bulacjic if you can help: nadezda@bulajic.freeserve.co.uk
---
Dawn Welsbey: I have been trying to find out more about my grandmother and her time as a Land Girl. Unfortunately many of my relatives who would have had the information have sadly passed away. Her name is Edith Saunders (nee Lomas) and she was based at Tony Field Farm, Chawleigh in Devon. It was while she was there that she met a young farmer by the name of Frank Saunders who she later married. I do not know whether he was based at Tony Field Farm or a neighbouring farm. While I know this is a longshot, any suggestions as to where or who I should turn to for more information would be greatly appreciated. Please contact Dawn Welsbey if you can help: welsbey@dwelsbey.orangehome.co.uk
---
Lorraine Bond has sent five photographs for use in the web site's photographic archive, and she wonders if anyone can throw any light on them. Does anyone recognise the people or the scenes? Click here to see the photos.
---
Rachel Vogeleisen Davies: Two years ago I started a photography project about Women who volunteered in the services during the Second World War to complete my MA of Photography with the University of West London (ex-TVU). After completing my MA I decided to go on with my project. In the past 2 years I have managed to meet about 20 women who served in the "WRNS", "WAAF" and " ATA". I am still trying to get in with Women who volunteered in the Land Army. Could you put me in touch with any ex-volunteers willing to take part into this project? My idea is to make a book out of this project.
---
Stephen Peart is preparing a book on the Lingwood (in Norfolk) community for publication next year and aims to give due credit to the part played by Land Army girls. The local vicarage was commandeered to billet 18 girls, mostly from Yorkshire. One of them stayed on and married a local by the surname of Tubby. If you have any information on this, please e-mail stephen.peart@virgin.net.
---
Pam Langton: My mother, Barbara Afford, was secretary to the Land Army organiser Mrs Young and lived with my grandmother in Bishops Lydiard. I am trying to trace the house she lived in. If you have any information, please e-mail info@womenslandarmy.co.uk
---