November WTC Photo of the Month
As we move into November, this month's post continues with the theme of memorials, by considering the WTC memorial in Dalby Forest, Yorkshire, 'Pull Don't Push', unveiled on Remembrance Day in 2013.
This steel sculpture recognises the skills required by WTC members through displaying women's physical dexterity in sawing, capturing 'the arduous nature of the work as well as the fun', according to the Forestry Commission.
The situation of the sculpture in an actual forest where Lumber Jills worked, embodies a direct historical connection with the wartime landscape. The sculpture, measuring five metres long by three metres high, depicts two Lumber Jills working together. The inclusion of one Lumber Jill entertaining herself by walking on the log indicates a playfulness to outdoor work. Yet, the solemn expressions on the women's faces reflect the serious reasons behind their participation.
This memorial presents both the serious and jovial sides of forestry work in a more personal representation, revealing women's skin as their sleeves are rolled up ready to work. The women have their hair up in bandannas, keeping it out of the way to allow them to do their work safely and efficiently.
The focus on the act of sawing is significant for two reasons. First, it shifts the audience's attention away from the more immediate association of the WTC with felling, capturing what was involved after felling had taken place.
The female figure is at ease in using the saw,
as she does not require the use of her other hand, alluding to her physical strength. The elevation within the memorial itself emphasises the horizontal as opposed to the vertical drama of forestry work.
Second, the shorter height of the memorial is typical of more contemporary statues which tend to present a more human perspective of war. In practice, this allows visitors to move closer to the figures themselves and develop a more personal connection with the sculpture, as evident in photographs used to publicise its unveiling.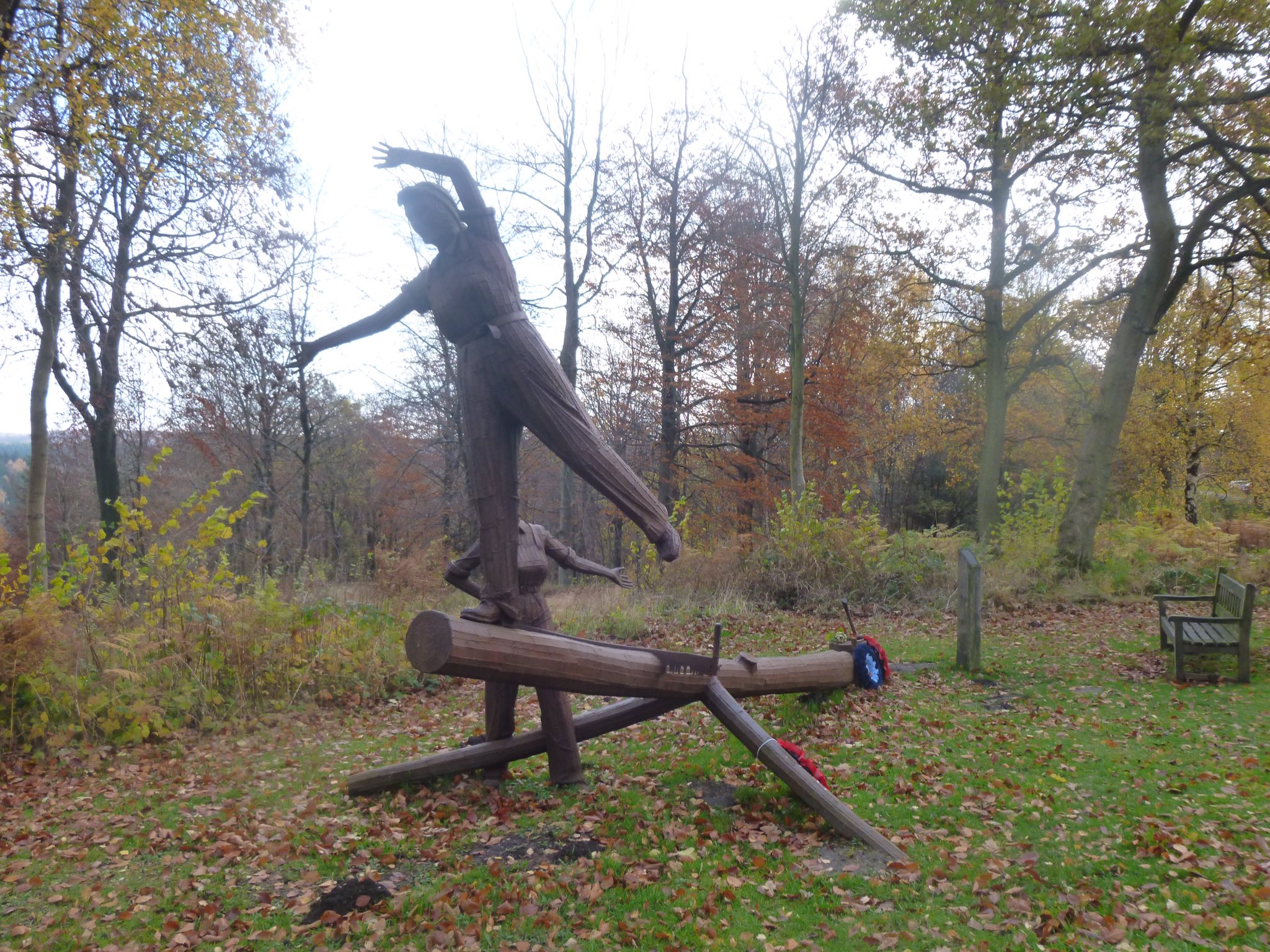 Like the Aberfoyle memorial we considered last month, the situation of the sawing process in the forest acts as a counter-visual culture to deforestation.
Symbolically, the sawing of two logs of timber appear rather insignificant when placed against the wider forest. Indeed, the use of brown steel complements the physical forest environment to a much greater extent than the black bronze statue in Aberfoyle, which evoked a more conventional and formal memorial style.
The brown colouring parallels the bark of the trees, suggesting an integration into the forest landscape, thus masking the extent of the disturbance which timber operations could bring.
Through this memorial, women's work is given a sense of immediacy and action, which is all the more powerful being situated in the forest landscape, where actual Lumber Jills worked.
View higher quality photographs of the memorial on Flickr.
Did you or a member of family work in the Women's Timber Corps? If so, then get in touch.
Read other posts in the series