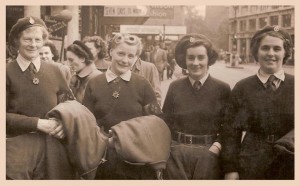 I am looking for between 20 and 30 individuals to test a new online form which is currently being developed on www.womenslandarmy.co.uk.
This new form will enable former Land Girls and their family members / relatives to contribute information on individual Land Girls, which can be stored in a central database and map.
As no central record of Land Girls (and where they worked during the Second World War) exists, I am hoping this will make the site even more of a digital monument to a group of women whose service has largely gone unnoticed.
Why I need your help?
I have been working with a web designer on the plug-in for some time and now need people to try out the form. As I anticipate it being used by a large number of people, I am looking for your comments on the following:-
How easy and logical it is for people to use
How well it allows people to contribute and share all the information they would like
Whether there are any areas which you feel are missing and should be changed / added
What you need to do?
To test out the plug-in, I would ask that each individual fills in the form for their family member or relative who was in the Women's Land Army. (A draft of what the form involves can be seen here.)
After this, I will then send around a short survey for you to fill in which asks your opinions and comments on using the online form.
I will use this feedback to make any final changes before promoting this more widely on the Internet and to other Women's Land Army networks.
Please note that if there are drastic changes to the form, you may be asked to re-enter information once the form is finalised.
How can you help out?
If you are interested in testing out this form, please e-mail me, Cherish Watton at info@womenslandarmy.co.uk.
I'll then be in touch in a few weeks with a link to the form and the survey.